French Drug Trial Is Halted After Patient Becomes Brain Dead
by
Six people taking drug have been hospitalized, ministry says

Treatment being developed by an unnamed European company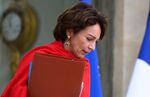 Six people participating in a clinical trial for an experimental drug have been hospitalized after a "serious accident," France's Health Ministry said.
One of the people is on life support and is considered brain dead, the ministry said in an e-mailed statement on Friday. The treatment is being developed by a European company, according to the statement, which didn't name the compound or its developer.
The participants in the early-stage trial were healthy volunteers and the drug was taken orally, the ministry said. The six volunteers were taken to the University Hospital of Rennes, and others who took the treatment are being recalled.
The nation's drug safety agency ANSM plans to inspect the clinical trial site. Marisol Touraine, the French minister for health, said she will also travel to the hospital and hold a press briefing at 2:30 p.m. Paris time. Her office was informed of the incident on Thursday night.
The drug being tested was a cannabis-based painkiller, according to French daily Le Figaro.
A spokeswoman for the Health Ministry declined to give further details including the laboratory's name. The Paris prosecutor's spokeswoman Agnes Thibaut-Lecuivre wasn't immediately available for comment. Press officers at the ANSM and at the Rennes hospital declined to comment.
The incident is similar to one in the U.K. a decade ago. Six healthy men suffered multiple organ failures after taking an experimental medicine in a test in London. German drugmaker TeGenero AG was developing the treatment, a monoclonal antibody for the treatment of rheumatoid arthritis and leukemia. The company later declared bankruptcy.
Before it's here, it's on the Bloomberg Terminal.
LEARN MORE