For Buffett, It's Another Day, Another Buy of Phillips 66 Stock
by and
Berkshire increased Phillips stake seven straight trading days

Oil refiner is sixth-largest holding in Buffett's portfolio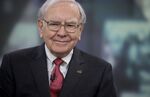 For Warren Buffett, every day lately has been a good day to buy Phillips 66 stock.
The billionaire's Berkshire Hathaway Inc. has added shares of the oil refiner for seven straight trading days, spending more than $450 million on almost six million shares.
Berkshire's 13 percent stake is valued at about $5.3 billion based on Thursday's closing price of $79.28. That makes it the sixth-largest holding in Buffett's portfolio. His Omaha, Nebraska-based company disclosed in August a $4.5 billion stake in Phillips 66, and then added more shares in early September. He halted purchases when the shares rallied and resumed buying amid the market slump this month.
"Buffett has a longer-term view," said Andy Lipow, president of the Houston-based energy consulting firm Lipow Oil Associates LLC. "If you believe that world oil demand will continue to grow at the same time that we see refinery closures in certain parts of the world and new construction being delayed, then refining margins will improve and stay good over the next several years."
U.S. refiners have prospered in recent years as they have been able to purchase crude for less. And demand for the gasoline they produce has soared because of the lower prices and a stronger economy.
Berkshire Holdings
Buffett previously invested in ConocoPhillips, which spun off Phillips 66 in 2012. His company initially added to its stake in the refiner, then traded most of the stock back to Phillips 66 in 2014 for a business that makes chemicals to reduce drag in pipelines. Still, Buffett has said he retained his respect for Phillips 66 and Greg Garland, the refiner's chief executive officer.
Berkshire's most active day for purchases this year was Jan. 8 when it added 1.7 million Phillips 66 shares. The most Buffett paid in recent months was $82.74 per share on Sept. 9, though additional purchases brought down the average price for that day.

Buffett's two largest stock investments, Wells Fargo & Co. and Kraft Heinz Co., are each worth more than $20 billion. Berkshire also owns more than $9 billion of stock in Coca-Cola Co., International Business Machines Corp. and American Express Co.
Before it's here, it's on the Bloomberg Terminal.
LEARN MORE