Europe Stocks Enter Bear Market Only 9 Months After Record High
by
Half of the stock declines took place since start of 2016

Selloff may force European Central Bank to expand QE: Baring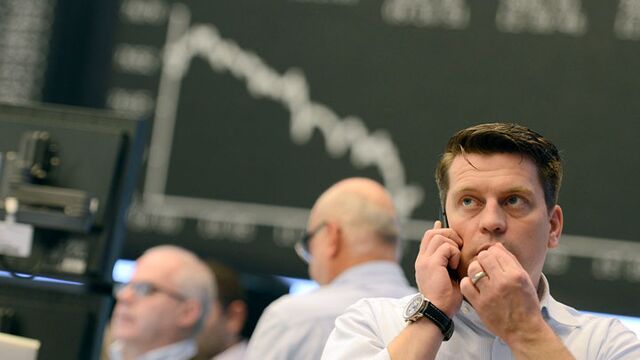 It's official. After the worst ever start to the year for European stocks, they have now entered bear market territory.
It's been a wild ride in the last nine months for the Stoxx Europe 600 Index, which closed today more than 20 percent from its record high in April -- meeting the common definition of a bear market. A weak euro and optimism surrounding the European Central Bank's stimulus plan proved no match for disappointing news out of China that added to worries about global growth. Global stocks plunged today on renewed concerns.
"There is a real fragility in the market, and once a level breaks down it can go further easily," said Lorne Baring, a fund manager who helps oversee $500 million at B Capital in Geneva. "Market moves may well precipitate a more aggressive stance by the ECB as soon as next week."

A big chunk of the declines came just this year. Stocks fell about 10 percent in 2016 alone, with volatility spiking to a September high. The Stoxx 600 closed at a one-year low of 329.84. Only 17 of the index's 600 shares are trading above their December 31 price, and earnings, once seen as a potential bright spot, are now unlikely to offer much support. Earnings revisions across the world are now the most negative since 2009.
After the Stoxx 600's high in April, concerns about Greece's economy, China's currency policy and Volkswagen AG's emissions scandal had battered markets by the end of September. A two-month rally followed, until a disappointing stimulus package from the ECB in December cut those gains short.
Still, it wasn't as bad as this year, when a rout welcomed investors just back at work from the New Year holiday. Concerns China's slowdown may be worse than expected and a further slump in oil sent the benchmark to its third consecutive weeks of losses, led by materials and automakers.
Investors have been pulling their money out of European stocks, and traders have been buying protection. The Euro Stoxx 50 Index of the region's large caps also entered a bear market last week. The price of bearish contracts on the Euro Stoxx 50 Index rose to the highest since September versus that of options betting on a rebound.
While "not yet big enough to signal true capitulation," clients are "no longer in denial about recession or bear-market risks," Bank of America Corp. said in a report that noted Europe's first equity outflows in 15 weeks.

But some investors have kept their optimism. Equities are now the cheapest in a year and the benchmark today broke a level that technical analysts call oversold, meaning the selloff has gone too far. History shows a rally should be around the corner, and Goldman Sachs Group Inc. says it may soon be time to buy.
"Underlying economic data is not bad, a lot of the stuff the ECB has done seems to be bearing fruit now," said William Hobbs, head of investment strategy at Barclays Plc's wealth-management unit in London. He sees double-digit returns for European stocks this year. "Those who are a bit more patient will probably be rewarded for sticking with it. Markets are overreacting."
But for now, jitters about China will continue to affect investor sentiment, said Neue Aargauer Bank's Konstantin Giantiroglou.
"You just don't know how severe the problems are," said Giantiroglou, head of investment advisory and research at Neue Aargauer in Brugg, Switzerland. "If you need to make the decision to invest, you wait. The psychological effect can't be underestimated."
Before it's here, it's on the Bloomberg Terminal.
LEARN MORE