David Bowie Poised to Dethrone Adele on Album Sales Charts
by
`Blackstar' would be Bowie's first No. 1 album in the U.S.

Album sales surged after pop star's death, Nielsen says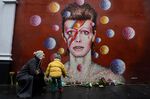 David Bowie's "Blackstar," released days before his death, is on track to knock Adele's "25" out of the top spot on the Billboard 200. It would be the first No. 1 album in the U.S. for the British pop star.
Sales of "Blackstar" increased 10-fold after Bowie died Sunday at the age of 69, surpassing 120,000 through Tuesday, according to data from Nielsen Music. Digital sales account for 70 percent of those purchases, Nielsen said. Adele sold 163,792 copies of her album last week, her seventh at No. 1. Her record-breaking "25" made its debut in November.
Bowie's death has lifted sales for more than his latest album, released by Sony Corp.'s Columbia Records. Purchases of past hits such as "Space Oddity" and "Under Pressure" surged on Monday, Nielsen said, while data analytics company BuzzAngle Music forecast three Bowie records would chart in the top 10 this week.
"Blackstar," Bowie's 25th studio album, has received strong reviews, earning an 86 rating from Metacritic based on 37 reviews. The New York Times' Jon Pareles described it as "strange, daring" and "ultimately rewarding."
The music industry has contracted since its zenith in 1999. Album sales fell 6.1 percent in the U.S. during 2015, according to Nielsen, as sales of both physical and digital CDs declined. The industry has pinned its hopes for growth to streaming services such as Spotify and Apple Music. The number of on-demand music streams grew 93 percent in 2015, Nielsen said.
Before it's here, it's on the Bloomberg Terminal.
LEARN MORE