Credit-Market Fear Gauge Soars as Oil Plunge Triggers Rout
by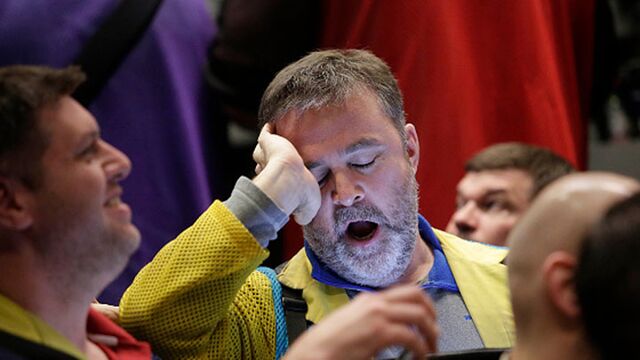 The cost to protect against defaults by North American companies soared to a three-year high Friday as concerns over a deepening plunge in oil prices triggered a global rout in equities.
The risk premium on the Markit CDX North American High Yield Index, a credit-default swaps benchmark tied to the debt of 100 speculative-grade companies, jumped 30.8 basis points to 557.7 basis point at 1:30 p.m. in New York, the highest since November 2012. A similar measure for investment-grade debt rose 6.5 basis points to 110.5 basis points, a three-year high.
"Stocks are selling off, high yield is selling off, emerging-market debt is selling off, investment-grade bonds are selling off," said Keith Bachman, the head of U.S. high yield at Aberdeen Asset Management Inc. in Philadelphia. "The higher spreads that we are seeing are reflective of the risk-off environment that we are in. Even though investment-grade credit is safer than high-yield credit, risk premiums are adjusting across the whole spectrum."
Oil fell to a new 12-year low below $30 a barrel in New York and the Bloomberg Commodity Index plunged to the lowest level since 1991. Stocks fell around the world as the Dow Jones Industrial Average sank more than 300 points. European stocks were poised to enter a bear market and the Shanghai Composite Index wiped out gains from an unprecedented state-rescue campaign.
The carnage in commodities has lowered demand for the debt of the riskiest companies, with the extra interest investors demand to hold U.S. high-yield energy bonds over government debt rising to the highest level on record. Investors pulled $2.1 billion from U.S. high-yield funds this past week after withdrawing $809.1 billion the week earlier, according to data provider Lipper.

"If prices stay down here, we will see a further uptick in defaults," Bachman said. "We are very negative on energy services, and very much focused on asset quality."
The outlook for corporate borrowers worldwide, darkened by slower growth in China and the rout in commodities, is the worst since the global financial crisis, according to a Jan. 11 report by Standard & Poor's.
"January has been cold water in the market's face," said Donald Ellenberger, who oversees about $10 billion as head of multi-sector strategies at Federated Investors in Pittsburgh. "We continue to have worries about weak global growth particularly in China."
Before it's here, it's on the Bloomberg Terminal.
LEARN MORE