business
Canada Dollar Extends Longest Losing Streak to Reach 13-Year Low
By
Market's likelihood of a rate cut next week above 50 percent

Crude oil below $30 per barrel again casts doubt on rebound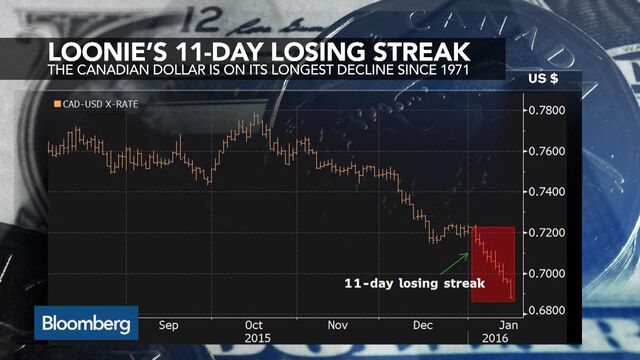 The Canadian dollar plunged to an almost 13-year low, continuing its longest losing streak as a freely traded currency, as oil prices fell below $30 per barrel and bets grew the Bank of Canada will cut interest rates back to a record low next week.
The currency weakened for an 11th straight day against its U.S. peer, the most since it broke its peg to the greenback in 1970. Crude oil, until last year's price collapse Canada's largest export, continued its own decline Friday, trading to a 12-year low. 
That's pushed odds above 50 percent the Bank of Canada will cut its benchmark interest rate back to the low only seen in the 2009 financial crisis when it meets Jan. 20. Demand for safety amid a global market rout pushed the yield on Canada's two-year government bond to a record low.

"We've got from outside Canada the perfect storm for Canada," said Adam Cole, head of global foreign-exchange strategy at Royal Bank of Canada in London. "Against that background, the Canadian dollar can only go in one direction."
The loonie, as the Canadian dollar is known for the image of the aquatic bird on the C$1 coin, weakened 1.2 percent to C$1.4541 per U.S. dollar on Friday in Toronto. It touched the lowest level since April 2003. One loonie buys 68.77 U.S. cents.
Bond Rally
The yields on Canada's benchmark two-year, five-year and 10-year bonds have all fallen to records this week as the oil prices fell and more stimulative action was priced in from the central bank. The two-year yield fell to 0.275 percent as investors' demand for the safety of Canadian government debt grew amid a market rout that's extended from China, to Europe to the U.S.
Traders in short-term interest rate instruments are pricing in a 62 percent chance the Bank of Canada will cut its benchmark interest rate to 0.25 percent next week with oil still falling and the most recent domestic economic data showing few areas of strength in other parts of the country's economy, according to Bloomberg calculations based on trading in overnight index swaps.
Norway, another industrialized oil exporter, declared a crisis in its oil industry that is worse than the darkest hours of the financial crisis. Data from the U.S. showed signs the world's largest economy and Canada's largest trading partner may be succumbing to the global slowdown. That's particularly worrying for Canada's central bank, which was counting on a pickup in the country's non-commodity exports to make up for the collapse in oil and consumers struggling under near-record debt loads.
"We could lose a couple more cents off the Canadian dollar," if the price of oil falls further, said Emanuella Enenajor, senior Canada economist in New York at Bank of America Corp., who predicted the currency would hit Friday's level and is calling for the central bank to cut rates next week. "The question is, will the economy be able to rebound from its doldrums?"
Before it's here, it's on the Bloomberg Terminal.
LEARN MORE