BlackRock's Net Income Increases 5.9% as Clients Add Money
by
Adjusted earnings per share miss estimates by 5 cents

Fink says markets may decline 10% more before rebounding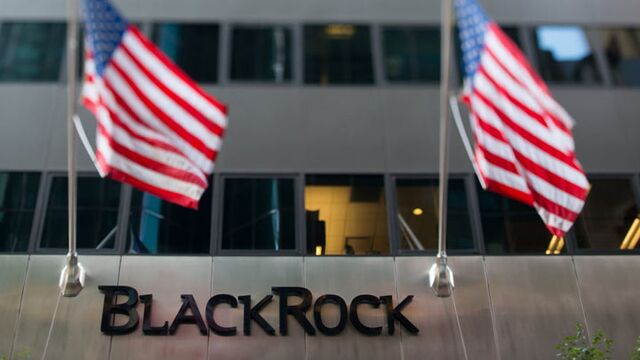 BlackRock Inc., the world's largest money manager, reported fourth-quarter earnings that missed analysts' estimates as rising expenses offset higher revenue.
Net income increased to $861 million, or $5.11 a share, from $813 million, or $4.77 a share, a year earlier, the New York-based company said Friday in a statement. Adjusted earnings of $4.75 a share missed the $4.80 average estimate of 19 analysts surveyed by Bloomberg because of transaction-related costs.
Higher expenses partly offset the positive impact of almost $54 billion in net inflows, as the firm attracted money across its offerings. Chief Executive Officer Laurence D. Fink said the firm is telling clients to add to positions after the recent slump in global markets. Stocks fell around the world today and bonds jumped as oil's plunge below $30 sent markets reeling. Fink said markets will probably decline another 10 percent before rebounding in the second half, and oil may test $24 a barrel.

There's "not enough blood" in the markets yet for a quick rebound, Fink said in an interview on CNBC.
BlackRock fell 4.3 percent at closing in New York. Before today, the shares had lost 10 percent over the last 12 months, beating the 16 percent decline in the S&P's 19-company index of asset managers and custody banks.
New Money
BlackRock brought in $53.8 billion of long-term net inflows during the quarter and attracted $152 billion throughout 2015 across its active, index and ETF offerings. The firm's active products saw net inflows of $61 billion last year. Its institutional index offerings experienced $13.7 billion of net outflows, mostly from fixed income as part of liability management strategies.
Revenue increased 2.8 percent from a year earlier, to $2.86 billion. Earnings were helped as Standard & Poor's 500 Index rebounded last quarter, returning 7 percent including dividends. BlackRock's assets under management increased to $4.6 trillion from $4.5 trillion in the prior quarter.
"It was a good quarter of market appreciation for most asset managers," said Macrae Sykes, an analyst at Gabelli & Co., before the release of the earnings report. "The big thing for BlackRock is their iShares unit benefiting from industry trends and flows."
Expenses rose 5.2 percent to $1.73 billion. Higher costs were driven in part by a transaction-related expense and technology costs as well as employee compensation and benefits as headcount expanded.
Fink said during a conference call discussing earnings that BlackRock has the mindset to make investments during this volatile period while others run from them. He said last year's growth was a result of the firm's investments over the past few years.
Before it's here, it's on the Bloomberg Terminal.
LEARN MORE