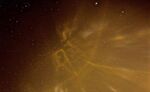 To get around the Finnish municipality of Eura, you could ask for directions or use your phone. Or if you happened to be there Tuesday night, you could just gaze upward, where a golden map of town glowed in the sky:
This extraordinary scene, captured by Mia Heikkilä, shows major and minor streets in a vertically flipped mirror image. Compare it with this map from the National Land Survey of Finland:

And this zoom of a neighborhood—scan for the roads that form a little box in the top left of Heikkilä's photo:
It this Finnish sky-god Ukko demanding city planners rework their street layout, lest he smite them from the globe with his great battle-ax? Tony Phillips at Spaceweather has a more terrestrial, yet no-less intriguing explanation:
Winter is unfolding around the northern hemisphere and, as temperatures drop, pillars of light are springing up from ground. Urban lights bounce off ice crystals in the air, producing luminous columns that reach into the heavens. Such "light pillars" are a common sight around northern cities in winter….

Most people see pillars from the side, where they look like luminous towers, but not Heikkilä. She was located inside a nest of pillars rising from the center of town. Looking up, she saw the tips of the pillars tracing the illuminated streets of Kauttua. In fact, the sky map was even better than the printed map Heikkilä used for comparison, because it traced the most recent changes to the cityscape.
Finland is no stranger to such striking apparitions. Last January, for instance, the horizon lit up with multiple rainbow-colored pillars, creating what looked like a trippy light show at a death-metal concert.