Wall Street Feeling the Pain of Low Oil Prices as Loans Go Bad
by
JPMorgan sets aside another $124 million for possible losses

BOK Financial credit loss provision rose to $22.5 million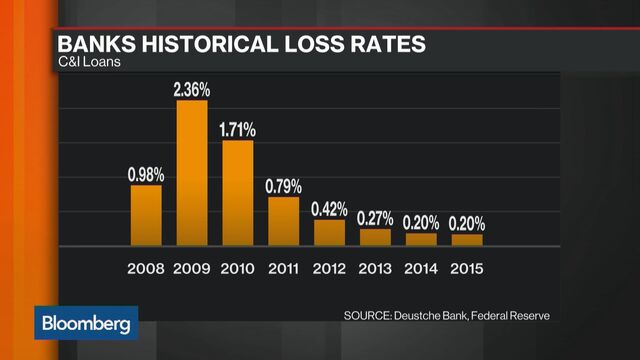 Bankers that backed the U.S. shale boom are setting aside more cash to cover souring loans as energy bankruptcies accelerate.
JPMorgan Chase & Co. reserved $550 million in 2015 to cover potential losses in its oil and gas portfolio, including $124 million added in the fourth quarter, Marianne Lake, the bank's chief financial officer, said during a conference call Thursday to discuss fourth-quarter results. BOK Financial Corp. said Wednesday that its provision for credit losses was expected to be $22.5 million, up from earlier forecasts of $2.5 million to $8.5 million.
"A bank is supposed to be there for clients in good times and in bad times," Jamie Dimon, JPMorgan's chief executive officer, said during the conference call. "So to the extent that we can responsibly support clients, we're going to. And if we lose a little bit more money because of it, so be it."
Oil prices plunged 36 percent in the past year and dipped to a 12-year-low this week, putting an end to the debt-fueled drilling spree that pushed U.S. oil production to the highest in more than 40 years. After years of spending more than they made, shale companies have parked their drilling rigs and laid off thousands of workers in an effort to conserve cash. In 2015, 42 oil and and natural gas producers went bust owing more than $17 billion, according to law firm Haynes & Boone LLP.
Production Declines
"A single borrower reported steeper than expected production declines and higher lease operating expenses, leading to an impairment on the loan," Stacy Kymes, BOK's executive vice president of corporate banking, said in a statement.
JPMorgan was among the lenders to Swift Energy Co., a driller that declared bankruptcy on New Year's Eve. The company owed $330 million on its credit line as of Nov. 30 and is working with banks and bondholders to restructure its debt, records show.
"A bankruptcy doesn't necessarily mean your loan is bad," Dimon said.
Banks often have first dibs on a company's oil and gas properties. Historically, those lenders got almost all of their money back, even when the assets were liquidated in bankruptcy.
If prices stay around $30 for 18 months, JPMorgan will have to set aside an additional $750 million to cover potential losses, Lake said.
Both Wells Fargo & Co. and Citigroup Inc. will announce fourth-quarter financial results on Friday. Both lenders reserved additional cash for energy losses last year.
Before it's here, it's on the Bloomberg Terminal.
LEARN MORE