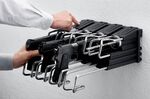 "If we can set it up so you can't unlock your phone unless you've got the right fingerprint, why can't we do the same thing for our guns?" That's the reasonable-sounding question President Obama asked during his Jan. 5 gun control address from the White House. The answer is a little complicated: Even with presidential backing, it would be naive to expect a market for so-called smart guns to spring to life anytime soon.
Digitally equipped firearms have been around since the mid-1990s. They're designed to avoid mishaps and criminality by working only for authorized users. Smart guns typically employ either biometric technology, like fingerprint scanners, or a radio-frequency-identification device (RFID), such as a ring or bracelet that sends a signal to unlock the weapon at a certain proximity.
Hostility from gun rights activists has deterred any major manufacturer from marketing smart guns. Colt's Manufacturing, for example, dropped a smart-gun project in the late '90s following a severe consumer backlash. Retailers who've put startups' products on their shelves have likewise faced fierce ideological protests.

To counteract such resistance, Obama included among the executive actions announced in early January a directive to the departments of Defense, Justice, and Homeland Security to conduct or sponsor research on digital devices that would reduce gun accidents and unauthorized use.
Smart-gun proponents applauded. Margot Hirsch, president of the nonprofit Smart Tech Challenges Foundation, which has distributed $1 million over two years to 15 entrepreneurs working on digital-weapon projects, tried to leverage the president's announcement in a fresh fundraising appeal. "That the federal government will work with the private sector to promote the development of smart-gun technology comes as exciting news to the innovators who have been working diligently to get products to market," Hirsch said in a mass e-mail. In a follow-up interview, she adds that "these technologies aren't ready for the market yet—they need more R&D—but the president's action will jump-start the process."
The response from one leading innovator was tepid at best. "I don't know yet" whether the Obama initiative will help, says Jonathan Mossberg, a scion of the O.F. Mossberg & Sons gun manufacturing company. Fifteen years ago, he spun off a tiny business called IGun Technology and has since invested about $3 million in the venture. It has produced a functioning prototype 12-gauge shotgun equipped with RFID technology. Over the years, IGun has received $235,000 in Justice Department grants as well as $100,000 from Hirsch's foundation.
Mossberg says he has a smart gun ready for the marketplace but the marketplace doesn't seem ready for his product. "It should be a $1 billion industry," he says, citing gun industry trade group surveys showing that 14 percent of Americans say they'd consider buying a commercially available smart gun.
Gun wholesalers and retailers are understandably hesitant to touch the Mossberg IGun. One gun store owner, Andy Raymond of Rockville, Md., gained notoriety for posting an Internet video in 2014 describing how he'd received death threats after trying to sell the Armatix iP1, a German-made pistol that fires only within range of an authorized user's RFID-equipped wrist piece.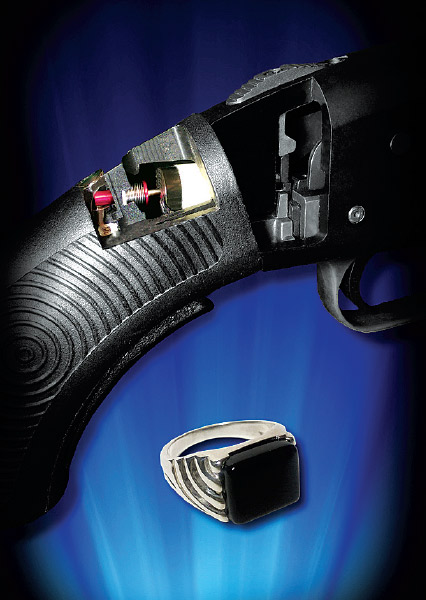 The National Shooting Sports Foundation, the gun industry's main trade group, hasn't opposed smart guns in principle, but it's warned against any government attempt to mandate them. The NSSF points to a 2002 New Jersey law, the Childproof Handgun Act, which says the state's firearm retailers would be required to sell only smart guns three years after a "personalized" firearm was offered for sale anywhere in the U.S. Second Amendment advocates often cite the state law as evidence that any government move favoring smart guns is actually a first step toward banning conventional ones. NSSF officials didn't respond to requests for comment for this article.
Jonathan Mossberg has another concern. "Now that the president has made this a priority, the Justice Department might start throwing money at people who really don't have the technology or credibility to get a smart gun to market," he says. "That could undermine those of us who've been working in the area for years." In other words, he's not so eager for new rivals in a market that so far has proved nonexistent.
The bottom line: Makers of biometric and RFID gun technology are skeptical of government promises given the hostility of their customer base.
Before it's here, it's on the Bloomberg Terminal.
LEARN MORE