Photographer: Evan Ortiz/Bloomberg
Food
The Most Beautiful, Addictive Croissant in New York Is Stuffed With Nutella
François Brunet's take on the classic pain au chocolat is unreasonably delicious.
by
The Nutella croissant went on the menu at Épicerie Boulud just a week ago, and since then I've been finding all sorts of excuses to pass by and and pick some up. You can find them at the Plaza Food Hall, too, but finding them isn't guaranteed: Only 60 or so are baked each morning ($4.25 each). 
"I really like the bicolor croissant style," says François Brunet, Boulud's executive chef boulanger, referring to the technique of layering colored dough with plain, "but I needed to make it different." 
Brunet picked up the technique from baker David Bedu, who's been known to serve bright pastries at his bakery in Florence. He mastered the look in his raspberry-chocolate croissants, which he introduced last year at Épicerie Boulud (this photo essay on the subject is required reading).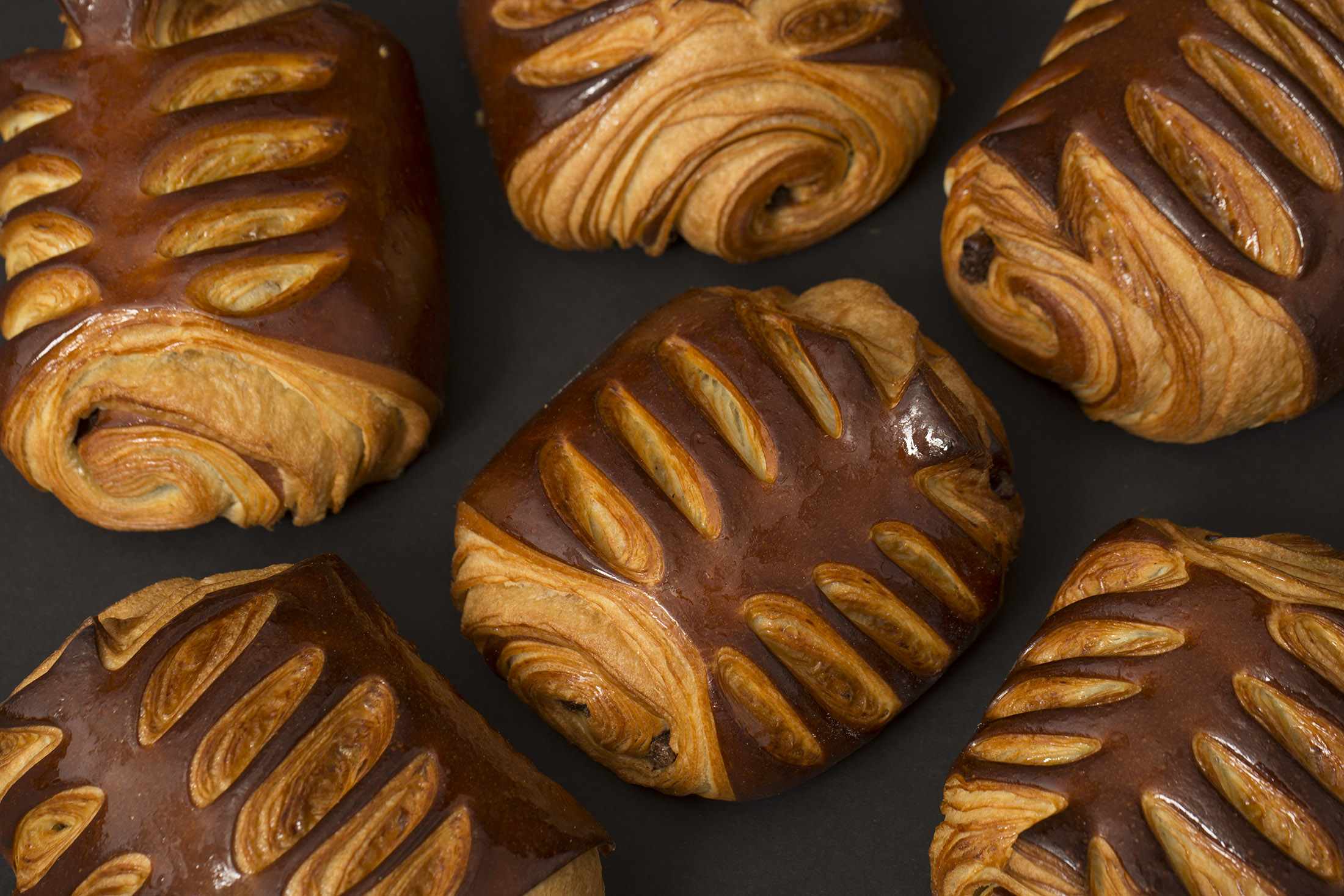 Now from his commissary kitchen on the Lower East Side, where he and a team of eight bakers produce the breads and pastries daily for Daniel Boulud's New York locations, Brunet has taken the idea even farther, losing the food coloring and using the contrast to draw attention to the lines of lamination, to the very croissant-ness of the croissant. He slashes the raw pastry's top layer, which is stained a dark brown with cocoa powder, using the corner of a razor blade. As it bakes, this dark shell gets superbly crisp, and each slash puffs open to reveal a pattern of swirls—even, precisely built layers of butter and rich, yeasted dough.
The edges are crackling and the insides tender, holding the scent of butter and chocolate—generous, sticky smudges of Nutella along with long, dark chocolate tablets. It's like any truly great pain au chocolat, just way more ostentatious, and unreasonably delicious.
Brunet is a fourth-generation baker, and his father still teaches baking back home in Brittany, France, where he grew up. He first apprenticed for a local master baker, Didier Chouet, and later studied bread for three years at the Institute National de la Boulangerie Pâtisserie in Rouen. When he worked at Vue de Monde in Melbourne, Brunet says he made the doughs for croissants and puff pastry in the night kitchen using just a rolling pin, a grueling process. "It wasn't easy," he says, "but I learned a lot about the texture and sensibility of dough."
In a post-Cronut society, the beautiful Nutella croissant could easily be a star, but Brunet isn't looking for fame. When it comes to croissants, he says, "I'm looking for flakiness, for layers, for something very airy inside. That's it." 
Tejal Rao is the New York food critic for Bloomberg. Follow her on Twitter and Instagram, or contact her at trao9@bloomberg.net.
Before it's here, it's on the Bloomberg Terminal.
LEARN MORE