Starbucks Shuts Jakarta Stores After Outlet Damaged by Blast
by
CEO Schultz says one Jakarta shop suffered collateral damage

No customer, employee fatalities reported from explosion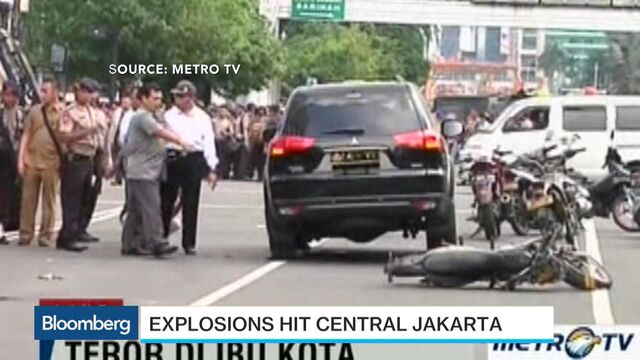 Starbucks Corp., the world's biggest coffee-shop chain, closed about 50 outlets in Jakarta after one of its stores suffered collateral damage from an explosion Thursday.
There were no customer or staff fatalities, Chief Executive Officer Howard Schultz said in Mumbai. Starbucks has more than 200 stores across 15 cities in the country, and opened its first outlet in Jakarta in 2002, according to the coffee chain's local website. One customer was injured in the attack, the company said, though a nearby hospital listed at least two foreigners who had been at the Starbucks.
"We are living in a time of great uncertainty and fragile nature," Schultz said. "This is a senseless act of violence and terrorism that many of us cannot process."
Explosions ripped through central Jakarta, killing several people in the worst attack in the Indonesian capital since at least 2009. At least three blasts occurred near the Sarinah shopping center, close to the United Nations office, one of which appeared to target a police post, televised images showed.
Schultz, who's in Mumbai for a media event, said Starbucks plans to expand its store network in India and would introduce mobile payment and e-commerce to its outlets in the country. The company, which has a joint venture with Tata Global Beverages Ltd., has about 75 outlets as of July last year.
The store hit by the explosion will remain closed, but other locations will reopen on Friday, Starbucks said in a separate statement.
"We are continuing to monitor this situation closely," the company said.
Before it's here, it's on the Bloomberg Terminal.
LEARN MORE