The IPO Aimed at Iran
Saudi Aramco could become the world's biggest public company.
By , , and
Saudi Arabia is considering a new strategic ally in its cold war against Iran: The world's 330 million owners of publicly traded stock.
Saudi Arabian Oil confirmed on Jan. 8 that it's studying options for a possible initial public offering. Why would Saudi Aramco, as the world's biggest oil company is known, auction off part of itself amid the lowest oil prices in 12 years? Some Saudi watchers say the kingdom needs cash for economic diversification. Others believe that Deputy Crown Prince Mohammed bin Salman, King Salman's swashbuckling 30-year-old son, is hoping that outside shareholders and directors can force the state-owned behemoth to become more accountable and efficient. He's the one who first disclosed the IPO idea, in an interview with the Economist. "Emir Mohammed is trying to redo things very quickly, from the bottom up," says Sadad al-Husseini, who ran Aramco's exploration and production operations from 1985 to 2003.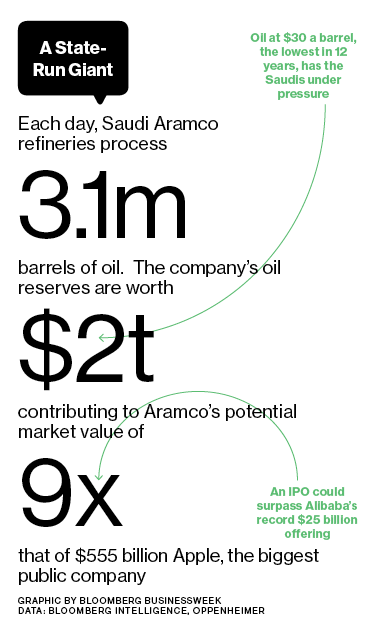 Another explanation is the geopolitics of survival. If it includes a stake in Aramco's vast oil reserves, a public sale of even a tiny fraction of the company could be the biggest IPO in history, likely dwarfing Alibaba's $25 billion share sale in 2014. The Saudi monarchy would give investors from Peoria to Shanghai a vested interest in the regime's security.
A share sale might also attract investment money that would otherwise go to competitors. "Riyadh could dry up the capital markets available to the oil industry," says Danilo Onorino of Dogma Capital in Lugano, Switzerland. "They will effectively leave others, from Mexico to shale producers, short of equity and debt access." For investors, a piece of Aramco would be prized because the company has a very low cost of production.
The chief rival on the Saudis' minds is Iran. It was probably not a coincidence that Prince Mohammed decided to drop the IPO news just two days after Saudi Arabia executed 47 prisoners, including the Shiite cleric Nimr al-Nimr, a fierce critic of the Sunni monarchy's treatment of Saudi Arabia's minority Shiites. Nimr's execution enraged Iranians, who set fire to part of the Saudi embassy in Tehran, leading Saudi Arabia and some of its Gulf Arab allies to break diplomatic relations with Iran. The standoff was quickly eclipsed, at least in the business press, by the prince's IPO bombshell. Estimates of Aramco's total value range widely, depending in part on the perceived risk of having a government as co-owner. The low could be $100 billion, using Russia's Rosneft as a benchmark; Fadel Gheit, an analyst at Oppenheimer, estimates Aramco is worth at least 15 times ExxonMobil's market value, or $5 trillion.
Iran desperately needs to jump-start its sanctions-racked economy and is trying to attract foreign investors for when its international status normalizes. The Saudi move would put Aramco ahead in the line. "Part of the financial weapon they're using here is to target fund managers and hedge funds around the world and to give them a choice of doing business with Saudi Arabia or doing business with Iran," says Mark Dubowitz, executive director of the Foundation for Defense of Democracies, a national security policy institute that opposed the nuclear deal with Iran.
Aramco is also jostling with Iran as well as Russia to secure its market share in Asia, the fastest-growing oil-consuming region, by expanding its refinery business there. In a repeat of the strategy the kingdom used in the 1980s and '90s to secure U.S. market share by investing in refineries in Texas and Louisiana, Aramco is putting money into plants from China to Indonesia. Asia accounts for almost 70 percent of Saudi Arabia's oil exports, according to the U.S. Energy Information Administration.
Industry analysts and Saudi watchers say Aramco might decide not to sell shares in the full company and instead let investors buy into these refineries and other downstream assets. The proceeds of a downstream IPO could fund more refineries, bolstering the kingdom's international relationships.
"The kingdom's refining ties promote deeper integration with powerful importing countries," says Jim Krane, energy research fellow at the Baker Institute at Rice University in Houston. "Those countries, in turn, are becoming stakeholders in Saudi Arabia's stability and security."
With oil prices down and the Saudi budget deficit way up, plus a costly war in Yemen that isn't going very well for Saudi Arabia, the money from a share sale would be welcome. But the backdrop for the Saudis' thinking today is their sense that they've been cut loose by the U.S. after last year's international nuclear agreement with Iran, says Dov Zakheim, a former U.S. under secretary of defense under President George W. Bush. Saudi Arabia joined Israel in lobbying against the accord. One thing "they never envisioned was that the Americans would let them down," says Zakheim, "and that's what they perceive has happened."
The bottom line: Taking Saudi Aramco public would help the government in Riyadh strategically. The country could also use the cash.
(
Corrects the description of the Foundation for Defense of Democracies in the sixth paragraph.
)
Before it's here, it's on the Bloomberg Terminal.
LEARN MORE