SABMiller Shuts South Sudan Unit on Foreign Currency Deficit
by
SABMiller to stop production in South Sudan by end-March

Brewer says operation has lost 'tens' of millions of dollars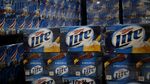 SABMiller Plc will close its brewing operations in South Sudan, the only beer factory in the world's youngest country, by mid-February as a foreign-currency shortage curtails its ability to import raw materials.
The company will cut as many as 176 jobs by the end of March, said Carlos Gomes, the managing director of South Sudan Beverages Ltd. The brewer has failed to make a profit in the war-torn country since setting up the nation's first brewery in 2009, he said in an interview in October.
South Sudan devalued its currency by 84 percent last month in favor of a floating regime when it adopted the parallel market's rate of 18.5 pounds per dollar from a previous fixed rate of 2.96.
"We have for many months not had access to any significant amount of forex," Gomes said in response to e-mailed questions. "We had large South Sudan pound deposits in the bank at the time the devaluation was announced. The end result is that we incurred a loss of tens of millions of dollars, placing SSBL in an even worse position than it was."
SABMiller, which is being acquired by Anheuser-Busch InBev, the world's biggest brewer, began producing brands including White Bull and Nile Special in 2009 in South Sudan.
Economic Crisis
The company, which also produces soft drinks and spirits, will import beer from neighboring Uganda to maintain a presence in South Sudan, Gomes said. A bottle of its flagship White Bull lager now sells for 20 pounds, or 43 percent more than it did just before the devaluation, and more than triple what it retailed at in 2013.
South Sudan, which has sub-Saharan Africa's third-biggest oil reserves, posted a record 109.9 percent annual inflation rate in December after prices of food and non-alcoholic beverages rose sharply. 
The nation was thrown into its first economic crisis soon after declaring independence in 2011 when it turned off oil production following a dispute with Sudan over export fees. That turmoil worsened with the start of a civil war at the end of 2013 that cut output by about a third, and the collapse of global oil prices.
Political stability could, however, return to Juba as the government of President Salva Kiir and rebels led by his former deputy, Riek Machar, have agreed on a power-sharing accord to end the conflict that has forced 2 million people from their homes.
Before it's here, it's on the Bloomberg Terminal.
LEARN MORE