Indonesian Stocks Decline With Rupiah After Deadly Explosions
by and
Local financial markets pare some of their earlier losses

Bank Indonesia cuts key rate for first time since February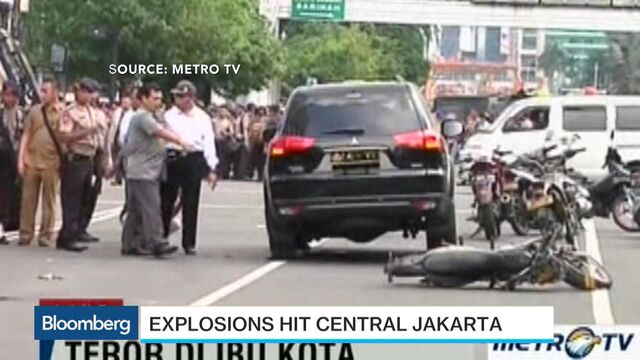 Indonesian financial markets pared losses after falling sharply as seven people were killed by explosions in central Jakarta in the biggest attack in the capital since 2009.
The Jakarta Composite Index of shares closed down 0.5 percent at 4,513.181 after declining 1.8 percent earlier. The rupiah weakened 0.6 percent to 13,913 a dollar as Bank Indonesia cut its benchmark rate for the first time since February 2015. The currency dropped 1 percent shortly after the explosions.
The attack clouds the outlook for an economy that's been hurt by falling commodity prices and is forecast to have grown at the slowest pace since 2009 last year. President Joko Widodo cut short a visit to West Java and held a limited cabinet meeting in Jakarta. 
"The initial response was typical for such tragic news, and that is the rupiah weakened sharply," said Sue Trinh, head of Asian foreign-exchange strategy at Royal Bank of Canada in Hong Kong. "But the market looks to be paring back on that."
Rate Decision
Bank Indonesia cut its benchmark rate to 7.25 percent from 7.5 percent. Thirteen of 23 economists surveyed by Bloomberg had expected a reduction, with the rest seeing no change.
"I witnessed the explosions from my office window and decided to sell," said Jeffrosenberg Tan, a portfolio manager at PT Sinarmas Sekuritas in Jakarta. "But I think the market was reacting on short-term fear and may bounce back. We are looking for opportunities to buy back."
Shares of PT Mitra Adiperkasa, which operates Starbucks in Indonesia, dropped 3.3 percent. Starbucks said it decided to temporarily close its outlets in Jakarta after the incident.
The attack began when one suicide bomber detonated explosives in a Starbucks cafe and that was followed by gunmen outside who began shooting, according to Jakarta police. Five attackers and two civilians including a Canadian citizen were killed, while 20 people, five of them police officers, were injured. At least three blasts occurred near the Sarinah shopping center, close to the United Nations office, one of which appeared to target a police post, televised images showed. 
Islamic State claimed responsibility for the attack, Arabiya reported. Indonesian authorities received a warning from IS in December that there would be an international spotlight on Jakarta, the Australian Broadcasting Network reported, citing a police spokesman.
Limited Impact
Indonesia has been battling violent Islamist extremists since at least 2000, but the last major attack was in 2009 when twin suicide bombings killed seven people at two Jakarta luxury hotels. Police and security analysts have warned that Indonesians traveling to join the Islamic State in Iraq and Syria posed a threat to Indonesia.
In the offshore market, one-month non-deliverable forwards on the rupiah weakened 0.9 percent to 14,054 a dollar as of 5:39 p.m. in Jakarta after being down as much as 1.6 percent earlier. Thursday's drop in the rupiah took its decline over the past 12 months to 9.3 percent, while the JCI has fallen 13 percent over the period.
"If this is not a long-lasting incident, the impact on the economy may be limited as, unlike Thailand, Indonesia doesn't depend much on tourism revenue," said Masakatsu Fukaya, a trader on the Asia and emerging-market team at Mizuho Bank Ltd. in Tokyo.
Before it's here, it's on the Bloomberg Terminal.
LEARN MORE