business
Ruble Advances for Second Day as Crude Moves From 12-Year Low
By
Bank Zenit sees `no confidence' behind strengthening currency

Five-year bond prices decline and Micex Index retreats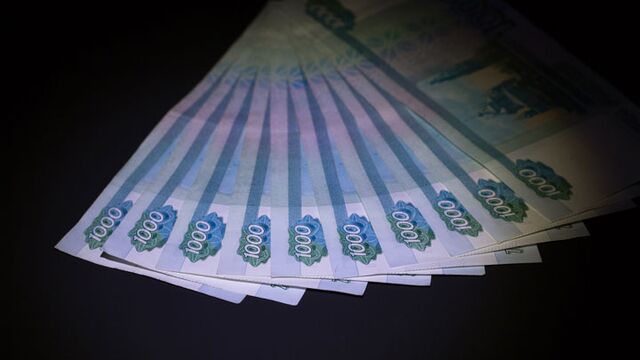 The ruble advanced for a second day as crude climbed from the lowest level in more than a decade and the correlation between the two assets increased.
The Russian currency advanced 0.4 percent to 76.392 per dollar by 6:45 p.m. in Moscow, set for the first two-day rally in more than a month. Brent crude rose 1.8 percent in London trading to $30.86 per barrel, bringing the 30-day correlation between two assets to 0.78, compared with 0.69 at the end of last year. A reading of 1 would indicate the two are trading in lockstep.
The prospects for oil to extend gains are clouded as Iran moves closer to boosting exports and exacerbating a global glut. Russia, which had planned budget spending in 2016 with crude priced at $50 a barrel, is considering cutting spending by as much as 10 percent as it faces a shortfall. The country gets almost half of its budget revenue from sales of oil and natural gas.
"The ruble is adjusting in the wake of the oil rebound," said Vladimir Evstifeev, an analyst at Bank Zenit in Moscow, in an e-mailed note. "However, there's no confidence behind this move: there's still short-term downside in oil prices, while on global markets there's uncertainty about China and the earnings season."
Oil Glut
Brent in rubles climbed to 2,355 per barrel, rising 1.4 percent from the lowest level since 2010 on Wednesday. The ruble has fallen 3.7 percent this month as the price of crude plunged amid a glut of oil on markets.
While the ruble is the second-worst performing emerging currency over the past six months with a drop of 26 percent, it hasn't kept up with a 47 percent decline in the price of Brent, spurring concern the country won't be able to contain its budget deficit.
The yield on five-year government bonds rose four basis points to 10.64 percent, the highest since October. The Micex Index of stocks declined 0.2 percent to 1,680.
Before it's here, it's on the Bloomberg Terminal.
LEARN MORE