Renault Emission-Fraud Probe May Hinder State Stake Sale
by and
State paper loss of up to 1.16 billion euros from share drop

State had raised Renault stake to block planned reorganization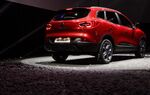 Renault SA's share drop on Thursday makes it harder for the French state to reduce its stake in the carmaker as planned.
The government on paper lost as much as 1.16 billion euros ($1.26 billion) of the value of its stake in Renault after news broke that the carmaker is being probed by a state fraud agency over emissions tests. The investigation comes on top of increasingly frayed relations between the government and the management of one of the country's largest industrial companies over its reorganization. The state is Renault's biggest shareholder, with an almost 20 percent stake.
"This is going to slow the process for the French government and it will make it more complicated to sell shares soon," said Bertrand Rakoto, an automotive industry analyst at Paris-based D3 Intelligence.
Renault shares fell as much as 23 percent Thursday after searches by the Economy Ministry's fraud office last week came to light, raising the specter of a Volkswagen-type scandal. The shares pared some of the losses to close about 10 percent lower after Renault said it's cooperating fully with the investigation. Also, Environment Minister Segolene Royal said that although its emissions were above norms, no fraudulent systems had been found on Renault cars, and shareholders and employees should "rest easy." The shares rose as much as 3.6 percent in early trading on Friday

Strained Ties
Still, Thursday's tumble complicates France's plan to sell a 5 percent stake in the carmaker. Renault Chief Executive Carlos Ghosn and French Economy Minister Emmanuel Macron have been in a standoff since April when the cash-strapped French government increased its stake in Renault to 19.7 percent from 15 percent to veto a planned deepening of the company's 16-year-old tie-up with Nissan Motor Co.
In a July interview with Le Monde, Macron said, "We will sell the 5 percent stake purchased in the spring." He then said in November that the stake won't be sold at a loss.
When the government increased its stake in April, Renault shares were trading at about 88 euros. They rose to a 2015 high of 100.25 euros on May 26. They closed at 77.75 euros on Thursday and were trading at 79.37 euros as of 9:08 a.m. in Paris.
Motion Defeated
At an April 30 shareholders meeting, the government's stake helped defeat a motion backed by Ghosn that would have skirted a French law giving long-term investors, such as the government, double voting rights.
The government's concern was that the planned re-organization with Nissan would weaken the French government's influence in Renault. An accord was reached in November that capped both the French government's and Nissan's control over Renault. The emissions probe may now slow things, Rakoto said.
"This doesn't make relations with Nissan any easier," he said.
Renault's release of full-year results in February may have given the state the opportunity to reduce its stake, but things are now in flux, he said. "It's not impossible the shares will move back to a saleable level after the results, but the situation needs to be clarified," Rakoto said.
Renault sold 1.36 million vehicles in 2015, up 9.4 percent from the year earlier, the Brussels-based European Automobile Manufacturers' Association, or ACEA, said Friday. Also, "at the moment, there's no plan" for the government to ask Renault to pay back the tax rebates it got for selling of clean cars, Environment Minister Royal said in an interview published on Friday in Le Parisien newspaper. "Renault must act immediately to ensure its motors meet standards."
Prickly Relations
Renault was created in 1898 and was taken over by the French government in 1945 because its owners had built trucks for the occupying Germans during the War. Renault shares were sold to private investors in chunks starting in 1990 as part of a privatization program.
Renault's strained relationship with the government didn't start under President Francois Hollande. His predecessor Nicolas Sarkozy used to rail against the company investing overseas rather than at home.
"I don't accept Renault's strategy of the past 10 years," Sarkozy said in a TF1 television interview in January 2010, saying that only a third of its employees were in France, whereas Peugeot, in which the state had no stake, had two-thirds of its employees in the country.
Before it's here, it's on the Bloomberg Terminal.
LEARN MORE