Oil Tumbles Below $30 With Brent at Biggest Discount Since 2010
by
Iran sanctions seen lifted as soon as nuclear deal verified

Diesel drops to lowest since 2004, gasoline to December 2008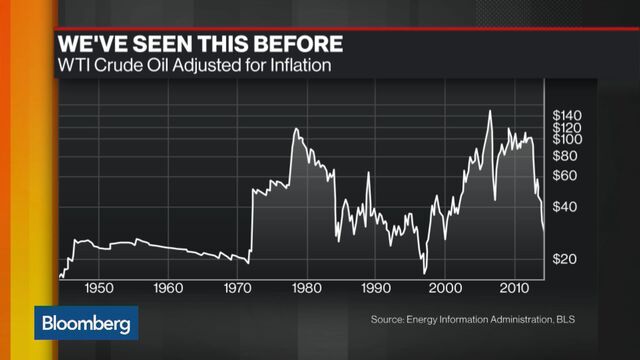 Oil dropped to a new 12-year low below $30 a barrel in New York, while the discount on global benchmark Brent reached a five-year high as Iran moved closer to restoring exports.
West Texas Intermediate crude fell 5.7 percent, capping an 11 percent decline for the week. The grade slipped below $30 a barrel on Tuesday for the first time since 2003. Sanctions on Iran may be lifted soon, allowing for a boost in oil shipments from OPEC's fifth-biggest member. Prices are down on Iran and concern about China's economy, according to Daniel Yergin, vice chairman of industry consultants IHS Inc.

"The plans by Iran to up exports by a fifth later this month once the sanctions are lifted is the last thing this market needed," said John Kilduff, a partner at Again Capital LLC, a New York-based hedge fund that focuses on energy. "There's got to be a bottom someplace but we haven't hit it yet."
Crude capped a second annual loss in 2015 as OPEC effectively abandoned output limits amid a global surplus. The price decline is affecting producers with BHP Billiton Ltd. expecting to book a $4.9 billion writedown on its U.S. shale assets, BP Plc announcing a further 4,000 job cuts and Petroleo Brasileiro SA slashing its spending plan.
WTI for February delivery fell $1.78 to close at $29.42 a barrel on the New York Mercantile Exchange. It was the lowest settlement since November 2003. Total volume traded was 16 percent higher than the 100-dayat 3:01 p.m. Prices have lost 20 percent this year.
Brent Discount
Brent for March settlement dropped $1.94, or 6.3 percent, to $28.94 a barrel on the London-based ICE Futures Europe exchange. It was the biggest decline in 11 months and left the contract at the lowest close since February 2004. Brent dropped below $30 Wednesday for the first time since April 2004. The European benchmark closed at a $1.45 discount to March WTI, the biggest gap since 2010.
Stocks fell around the world, with U.S. equities headed for the lowest since August, amid mounting concern that China's policy interventions will fall short of stoking growth in the world's second-largest economy.
Energy and technology companies led declines on the Standard & Poor's 500 Index. The S&P 500 Oil & Gas Exploration and Production Index decreased about 4 percent to the lowest since March 2009. Marathon Oil Corp. tumbled 11 percent, making it the worst performer on the S&P 500.
Greater Weakness
Iran is trying to regain lost market share and doesn't intend to pressure prices with an export increase once sanctions are removed, officials from its petroleum ministry and national oil company said this month. 
"Everybody was racing to get this done," Yergin, a Pulitzer Prize-winning oil historian said on Bloomberg Television. "It does mean that it's coming to the market at a time of much greater weakness than originally thought, which was March or April."
Oil will turn into a new bull market before the year is out as the price rout shuts enough production to erode the global glut, according to Goldman Sachs Group Inc. The boom in U.S. shale-oil production should reverse in the second half of the year, the bank said in a report. As U.S. output slumps by 575,000 barrels a day, global markets will tip from surplus to deficit, Goldman predicts.
"The key theme for 2016 will be real fundamental adjustments that can re-balance markets to create the birth of a new bull market, which we still see happening in late 2016," analysts Jeff Currie and Damien Courvalin wrote.
Gasoline for February delivery dropped 4.4 percent to $1.0212 a gallon, the lowest close since December 2008. Diesel for February delivery decreased 4.7 percent to 93.43 cents, the lowest settlement since April 2004.
Before it's here, it's on the Bloomberg Terminal.
LEARN MORE