North American Oil Industry Braces for More Cuts in 2016
by
Budgets seen down 27% in U.S., Canada after 35% drop in 2015

Global E&P spending expected to fall another 15% this year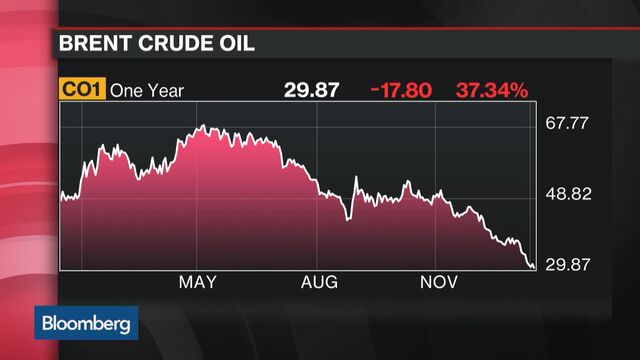 Oil and natural gas drillers in the U.S. and Canada will cut more than $35 billion from their exploration and production budgets in 2016, the deepest reduction of any region for the second consecutive year, according to Barclays Plc.
An estimated 27 percent cut in North American spending in 2016 to $96.6 billion comes after budgets shrank 35 percent last year during the worst crude market downturn in decades, J. David Anderson, an analyst at Barclays, wrote Wednesday in a note to investors. West Texas Intermediate, the U.S. crude benchmark, has fallen more than 70 percent since June 2014.
"Capital discipline looks good on paper, but hard to execute, especially as oil prices fall," Anderson wrote. "With oil prices still uncertain, the outlook for 2016 upstream spending is still a moving target, particularly for North America."
Globally, explorers and producers are expected to cut spending 15 percent to $444 billion this year after cleaving budgets by more than $100 billion in 2015. It's the first "double dip" spending drop since 1986 and 1987, according to the note. The industry has also slashed more than 250,000 jobs around the world to cope with crude that dipped below $30 a barrel this week for the first time in more than a decade.
While the Canadian companies surveyed by Barclays are planning to cut their combined exploration and production budgets by 28 percent this year, the bank expects an uptick in natural gas spending, Anderson said on a conference call Thursday.
Before it's here, it's on the Bloomberg Terminal.
LEARN MORE