Nasty Gals ♥ Courtney Love's Style
The online fashion retailer taps into a '90s grunge revival.
By
"Nasty Gal is not a brand for wallflowers," says Sophia Amoruso, founder and owner of the 10-year-old teen fashion label. Which explains the collaboration with rock icon Courtney Love: "She has such a singular style.  … She's provocative, she's uninhibited. I would say we're a provocative brand."
The 18-piece "Love, Courtney" collection, a first for the label and musician, goes on sale on Jan. 14 and features '90s grunge-inspired items, including what the first-time designer calls a floaty kimono ($188), bra with a choker ($48), and head-to-toe lace bodysuit ($108)—all drawn from her days as lead singer for the group Hole and as wife and muse of Nirvana frontman Kurt Cobain. "It's modern but slightly nostalgic," Love said on a recent podcast.


The line arrives at a time of renewed interest in '90s styles, from crop tops to high-waisted jeans. Dr. Martens industrial boots are back on the streets, more refined, less chunky. "You see a lot of parallels in what was popular then and what's happening now," says Roseanne Morrison, fashion director at trend forecaster Doneger Group. Love, she says, "epitomizes the '90s," and her line distinguishes Nasty Gal from other brands.
Fashion collaborations help retailers gain attention. It's a low-risk, low-cost way to spark publicity and sales, says Marshal Cohen, a retail analyst at research firm NPD Group. H&M and Target found such success with Alexander Wang and Missoni, among others.
Amoruso's company started as an EBay store, selling vintage finds from labels such as Louis Vuitton and Chanel. It became a standalone online shop in 2008. In 2012 she hired designers to create a Nasty Gal line. "They've tapped into this idea that young girls and millennials can be a little more sexual and rebellious with their style," says Sarah Owen, editor at retail analysis firm WGSN.
Today, Nasty Gal has 200 employees and two brick-and-mortar stores—in Los Angeles, where it's based, and Santa Monica. It rings up about $100 million in annual sales, according to Amoruso, and has raised $65 million from Index Ventures and former J.C. Penney Chief Executive Officer Ron Johnson.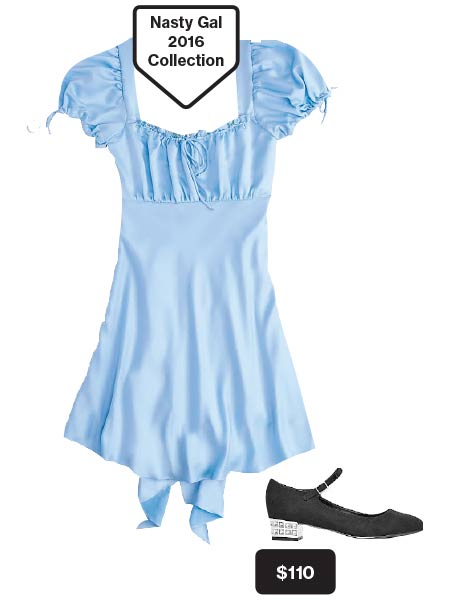 Fashion e-commerce is a crowded market, with hundreds of startups, from ModCloth to Asos, selling alongside established retailers H&M and Forever 21. Social media has driven Nasty Gal's popularity—that's where the company cultivates its customer. It has 1.9 million followers and counting on Instagram, 225,000 on Twitter, and 158,000 on Pinterest, plus 1.2 million likes on Facebook.
Nasty Gal had to cut about 10 percent of its workforce in 2014—typical growing pains for a fashion retailer, according to Steven Dennis, the founder of retail consulting firm SageBerry. "Once you find the easy customers to acquire, who get your point of view, then it starts to get a lot harder to go beyond being a niche business," he says. Nasty Gal declined to comment on the job cuts. It's also fighting four lawsuits brought by former employees who accuse it of disability discrimination and illegal termination of pregnant workers. The company called the pending lawsuits "frivolous and without merit." Last spring, Amoruso said she would focus more on the creative side of the business and promoted Sheree Waterson, a former Lululemon executive, to CEO.
"Our girl loves Courtney and her style," Amoruso says. That type of synergy doesn't come along that often, and Amoruso isn't looking to do too many such deals. "I'd like to be really choosy," she says.
The bottom line: The teen and young women's fashion brand is hoping to attract new customers with an exclusive deal with a rock icon.
Before it's here, it's on the Bloomberg Terminal.
LEARN MORE