technology
Musk's SpaceX, Orbital ATK Split $14 Billion Pact With Newcomer
By and
Sierra Nevada enters arena with shuttle-like Dream Chaser

Flights to supply space station will begin in 2019, NASA says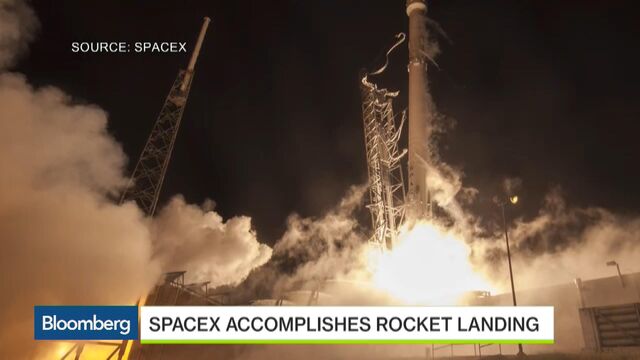 Elon Musk faces a fresh challenge from a newcomer with a reusable spacecraft after NASA split a cargo pact valued at as much as $14 billion between his SpaceX venture, Orbital ATK Inc. and lesser-known Sierra Nevada Corp.
SpaceX and Sierra Nevada are at the vanguard of companies seeking to reuse expensive craft to squeeze costs so spaceflight becomes more affordable for consumers. Sierra Nevada is designing a winged orbiter called Dream Chaser that would touch down on commercial runways following missions, while SpaceX's Dragon capsule aims within a few years to touch down upright on land rather than splashing in oceans.

Space innovation by private companies rather than governments has been an Obama administration goal. The latest arrangement covers missions to the orbiting lab over a six-year span starting in late 2019, the National Aeronautics and Space Administration said Thursday. The awards come as the space agency works to foster commercial missions and Congress clamors to end U.S. dependence on imported rocket engines.
"Today's announcement is a big deal that will move the president's vision further into the future," NASA Administrator Charles Bolden said in a statement.
Total value of the contracts will depend on the types of missions ordered, but will probably fall well short of the maximum, Kirk Shireman, program manager for the International Space Station, said at a press conference at the Johnson Space Center in Houston. Each supplier will fly a minimum of six missions.
Sierra Nevada's Dream Chaser stands to gain prominence with the contract, while providing a new twist on the concept of reusable spacecraft championed by Musk. SpaceX successfully flew a 14-story rocket booster from the edge of space to a Florida launching pad in December and has designed similar vertical landing technology for its Dragon capsules.
Shaped like a smaller cousin to the space shuttle, the cargo version of the Dream Chaser will have foldable wings that enable it to blast off atop a rocket while protected by standard launch fairings. That's the hardened shell that drops away when the vehicle reaches space. Unlike the shuttle, Sierra Nevada's craft is made of non-toxic materials that would allow it to touch down from space missions on standard commercial runways.
The Dream Chaser would make it easier for scientists to speed sensitive research samples to Earth since its re-entry would be at an angle where there's less wear-and-tear from gravitional forces than there is on capsules, said Julie Robinson, the station's chief scientist.
Sierra Nevada, based outside of Reno, Nevada, is owned by Fatih and Eren Ozmen, Turkish-American husband-and-wife entrepreneurs who purchased the company in 1994.
It also bid to provide the first commercial manned flights to the space station, but fell short to Boeing and SpaceX in late 2014.
"SNC is honored to be selected by NASA for this critical U.S. program," said Eren Ozmen, president of Sierra Nevada. She said the company looks "forward to successfully demonstrating the extensive capabilities of the Dream Chaser spacecraft to the world."
SpaceX offered the only made-in-the-USA entry in a three-way derby with Orbital and Sierra Nevada, both of which rely to some extent on rockets with Russian propulsion. Proposals by traditional space powers Boeing Co. and Lockheed Martin Corp. were eliminated earlier in the competition.
NASA split the initial $3.6 billion cargo-flight contract between SpaceX and Orbital in 2008, two years after Musk's Space Exploration Technologies Corp. sent its first rocket aloft. The victory helped establish SpaceX as a competitor to United Launch Alliance, the Boeing-Lockheed rocket venture that has dominated military missions for the past decade.
Adding a third contractor gives NASA greater protection against disaster. SpaceX and Orbital each halted operations after losing rockets on cargo missions. An October 2014 explosion just after liftoff destroyed an Orbital Antares rocket laden with space station cargo. In June, a SpaceX Falcon 9 blew up minutes into flight to the orbiting lab.
The station's reliance on Russian and Japanese spacecraft while the U.S. craft were grounded highlights the "immediate and urgent need for appropriate oversight and corrective action," Republican Senators Cory Gardner of Colorado and David Vitter of Louisiana said in a Sept. 1 letter urging the Government Accountability Office to review NASA's contracted launch services and capsules.
Although SpaceX restarted commercial flights in December, it has yet to resume cargo missions under the NASA award. Orbital sent a supply capsule to the station last month atop a United Launch Alliance rocket. Orbital is dependent on its competitor's Atlas V rockets while it builds an upgraded version of the Antares craft that exploded.
"It makes sense to have three providers," said Shireman. "We picked Sierra Nevada because they had a great proposal."
Before it's here, it's on the Bloomberg Terminal.
LEARN MORE