Mizuho Hires More for Japan Equities as Market Rout Deepens
By
Japanese bank adds seven equity employees in its home market

Barclays is among global firms that are pulling back in Asia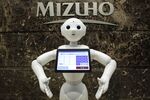 Mizuho Financial Group Inc. is pressing on with its hiring in Japanese equities even as global stock-market turmoil deepens and global competitors such as Barclays Plc shrink operations in Asia.
Tokyo-based Mizuho added seven Japan equity staff this month, said Yohei Osade, global head of Asian equities at the bank's securities unit. They include Yuki Maeda, who joined from Bank of America Corp. as senior executive of the equity group in Tokyo and global head of Asian equity corporate access, Osade said in an interview.
The appointments are the latest in a wave of hiring by Mizuho to expand its Japan equity business as low interest rates depress earnings from loans. While Japan's Nikkei 225 Stock Average rose 9.1 percent in 2015, those gains evaporated this year after China's weakening economy triggered a worldwide rout. Barclays plans to close most of its cash-equities business in Asia including Japan, people with knowledge of the matter said this month.
"Everyone is getting very nervous about Japanese stocks because of geopolitical risks and the slowing Chinese economy," Osade said. "At the same time, investors think the Japan market is still attractive due to the profitability of Japanese firms and their improvements in corporate governance."
The Nikkei 225 closed 0.5 percent lower on Friday, extending this year's decline to 9.9 percent.
Senior Hires
Mizuho Securities Co. hired Rikiya Fukumoto, a former senior trader at Nomura Holding Inc., as a director and deputy head of equity cash trading, Osade said. Joseph Altwasser joined from SMBC Nikko Securities Inc. as a director and global specialist in sales for real estate, while Yoshinori Hayashi was recruited from Bank of America as vice president to head Mizuho's newly built equity swap desk.
Yusuke Aiba, a former equity salesman at Bank of America, started as a senior product manager in the strategic financial product department. Todd Steeves joined Mizuho from Nomura as an executive director and senior Japan and Asia equity salesman based in San Francisco.
Mizuho is recruiting about six people every month, Osade said in an interview in September. It aims to hire about 20 people for roles including equity sales, research and trading in Tokyo, Hong Kong, New York and San Francisco from December to March, he said in November.
Barclays, BNP
Mizuho also added a sales trader this month. In December, the brokerage hired two equity staff in Japan, including Steven Hughes, who joined from Morgan Stanley as a director of international sales trading.
The near-exit from cash equities by London-based Barclays is part of plans to eliminate about 50 percent of jobs from the wider equities unit in Asia and the Pacific, people with knowledge of the matter said last week.
BNP Paribas SA chose Instinet Inc. to provide the electronic trading platform for its Asian cash equities business, the French bank said this week.
"Overseas brokerages are shrinking in Japan, and that's not because they've changed their views on Japan stocks but because they're required to focus on their mother markets due to regulations," Osade said. "It's a chance for Mizuho and other local banks to beef up our franchises."