Layoffs Loom in China as Growth Slows
The number of protests doubles, and most industries are affected.
By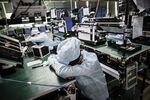 While most of the world has fixated on the plunging Shanghai and Shenzhen stock exchanges and Beijing's missteps managing the currency, China's labor market has become increasingly fragile. As wage arrears and layoffs grow, unrest in factories and on construction sites is spreading.
Worker protests and demonstrations doubled last year, to 2,774, with December's total of more than 400 such incidents, setting a monthly record. The protests come as China's slower growth crimps profits and concerns about poor policymaking sap investor confidence. "The increase in strikes and protests began last August around the time of the yuan devaluation and subsequent stock market crash and continued to build during the final quarter of the year, as the economy has showed little sign of improvement," says Geoffrey Crothall, communications director at the Hong Kong-based workers' advocacy organization China Labour Bulletin.
That's worrisome for China's Communist Party, which came to power in 1949 claiming to represent the working masses. In a sign of its nervousness, Beijing on Jan. 8 formally arrested four labor organizers in Guangdong, amid a broad crackdown on rights activists. "The situation is not so good these days," Zhang Zhiru, a Shenzhen-based labor campaigner, said in a text message. "It is not convenient to accept interviews from the foreign media."
The government's official unemployment rate for urban workers is fiction: It's remained largely unchanged at around 4 percent even when China's economy has dipped significantly in the past, as during the global financial crisis. Still, most outside observers estimate the real figure may be a couple of percentage points higher (the Conference Board's China Center for Economics and Business puts it at about 6 percent). Wage growth has been outpacing gross domestic product growth in recent years, and 10.7 million urban jobs were created in the first nine months of last year, surpassing the official full-year target of 10 million, according to the Ministry of Human Resources and Social Security.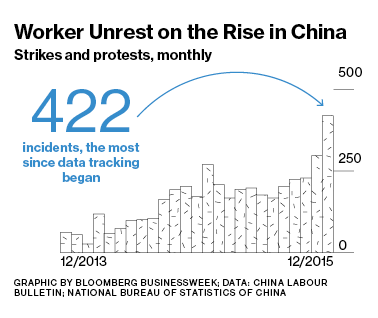 Cash-pressed companies in construction, manufacturing, mining, and services are delaying paying their workers, which is the No. 1 cause of labor strife and a likely precursor to staff reductions, says Crothall. "Companies have been delaying wages and cutting the workweek. They have tried these different measures to keep people employed. But now we expect greater outright layoffs," says Beijing-based Andrew Polk, senior economist at the Conference Board's China Center.
"This year I expect it will be even more difficult to find work," says one 30-year-old toy factory worker who hails from Hunan province. (He asked that his name not be used, citing the sensitivity of the labor situation.) "I am not satisfied with my salary. But everywhere's pretty much the same."
According to Chinese surveys of purchasing managers, companies have been reducing staff for at least the past 11 months. A separate private poll by Markit Economics and Caixin, a financial information media company, is similarly grim, with services showing their worst overall performance in 17 months in December.
Layoffs have been particularly high among export-oriented manufacturers in southern China's Pearl River Delta. A survey last August of 570 companies in Guangdong by the Hong Kong University of Science and Technology and Beijing's Tsinghua University showed companies had reduced their workforces by an average of 3.5 percent from 2013 to 2014, while low-skilled workers had been cut by 5 percent, says Albert Park, director of the HKUST's Institute for Emerging Market Studies. Monthly wages for workers grew more than 10 percent annually in 2013 and 2014. They grew less than 2 percent through the first half of last year.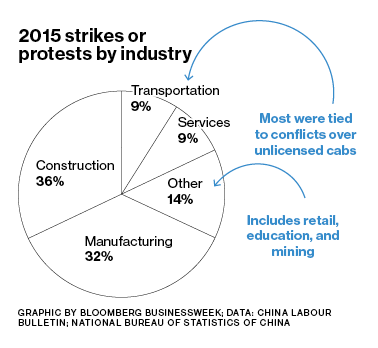 Multinationals operating in China's big cities are trying to control labor costs. About one-third of such companies in an October survey said they planned to add staff in 2016. That was the lowest rate recorded since early 2009, during the global financial crisis, says Elley Cao, a principal at human resources consultants Mercer in Shanghai. Foreign companies said they plan to raise salaries on average by 6.9 percent this year, the smallest increase since 2009. Says Cao: "This will be the trend for the next few years."
Layoffs in China's resource and heavy industries, suffering from overcapacity and red ink, are expected to be particularly large. Officials have said cutting excess production is a priority, in part to help reduce hazardous smog. "China should put unyielding effort into restructuring by eliminating outdated capacity and forbidding the construction of new capacity," Premier Li Keqiang said on Jan. 4 in Shanxi, one of the top coal-producing provinces, the official Xinhua News Agency reported. The government should take "a combination of measures" to deal with overcapacity and ensure the "well-being of laid-off workers," Li said, without specifying how.
The downsizing in heavy industry and mining has already begun. The coal industry has shed 890,000 jobs since 2013, equal to all the new jobs in coal created "in the stimulus-driven boom since 2007," writes Ernan Cui, a Beijing-based analyst at China researcher Gavekal Dragonomics, in a Jan. 6 note. The steel industry, also suffering from overcapacity, has dropped 550,000 workers over the same period. "It is not implausible that these two sectors could lay off 1 million workers in 2016," Cui writes.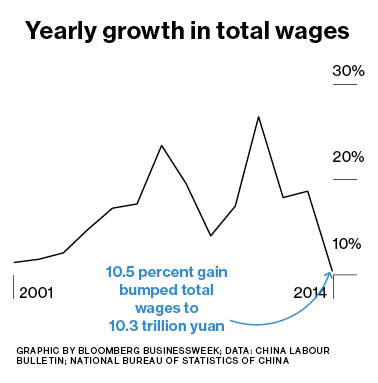 Even as the service industry grows, it's failing to create many higher-end, better-paid jobs, like those in finance. Instead, says Park, it's generating positions such as waiters, cooks, and dishwashers in restaurants. China Labour Bulletin's Crothall says, "The jobs that are becoming available in the sector are not necessarily that much better in terms of pay and conditions, as former factory workers were getting. Indeed, they may often get paid less and be working longer hours."
The bottom line: This year is shaping up to be a tough one for Chinese labor, as employers seek to reduce costs and pare away excess capacity.
Before it's here, it's on the Bloomberg Terminal.
LEARN MORE