JPMorgan Shares Rise on Surprise Drop in Capital Surcharge
by
Adjusted earnings of $1.34 a share beat analysts' estimates

Capital buffer gets benefit from balance-sheet reductions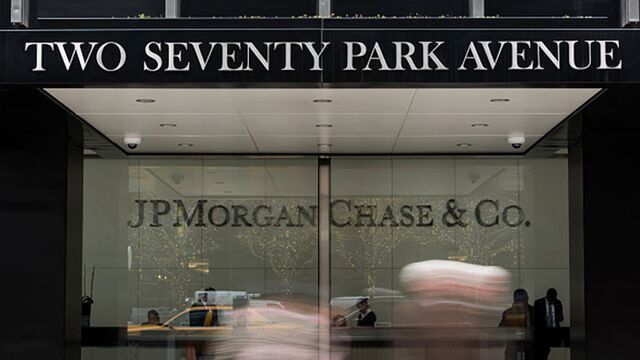 JPMorgan Chase & Co. rose in New York trading after reporting earnings that beat analysts' estimates and a smaller impact on capital from regulations that threatened to put the company at a disadvantage compared with other banks.
The shares climbed 1.5 percent to close at $58.20, paring its decline this month to 12 percent.
JPMorgan said its surcharge for global systemically important banks -- a closely watched measure that will determine its required capital ratio -- fell to 3.5 percent after the company cut client deposits and reduced derivatives. A year ago the bank said it could be as high as 5 percent. An insignificant amount of revenue was sacrificed to whittle down the surcharge, Chief Financial Officer Marianne Lake told reporters Thursday.
"These improvements dramatically improve its outlook to successfully pass" a future Federal Reserve stress test while maintaining or increasing the return of capital to shareholders through buybacks or dividends, Eric Wasserstrom, an analyst at Guggenheim Securities LLC, said in a research note. Steven Chubak, an analyst at Nomura Holdings Inc., called the G-SIB reduction a positive surprise on a conference call.
Fourth-quarter net income rose to $5.43 billion, or $1.32 a share, from $4.93 billion, or $1.19, a year earlier, according to a statement Thursday from New York-based JPMorgan. Earnings excluding litigation costs, accounting adjustments and a tax benefit were $1.34 a share, beating the $1.27 average estimate of 29 analysts surveyed by Bloomberg. The bank earned $24.4 billion for 2015, a second-straight annual record.
Wall Street firms are under pressure to cut costs as revenue from fixed-income trading slumps. Lake said last month that the quarter had been quiet for bond and equity markets, adding that the Federal Reserve's Dec. 16 interest-rate increase could provide a boost in 2016. The company had only $99 million in litigation costs after getting $318 million from the U.S. government tied to its acquisition of Washington Mutual Inc. assets. That compared with $990 million in legal expenses a year earlier.
"Expense discipline was impressive," Richard Ramsden, a Goldman Sachs Group Inc. analyst, said in a note, adding that capital-markets results "were modestly better than expected."
Revenue, Expenses
Revenue rose 1 percent to $22.9 billion in the fourth quarter and non-interest expenses fell 7 percent to $14.3 billion. Revenue on a managed basis, which includes tax adjustments, was $23.7 billion, beating analysts' estimates. The number of employees declined to 234,598, a drop of 3 percent.
Earnings at the corporate and investment bank surged 80 percent to $1.75 billion, driven by the lower legal expenses. Revenue slipped 4 percent from a year earlier to $7.1 billion on declines in trading and investment banking. While fixed-income trading revenue dropped 3 percent to $2.57 billion on lower commodities and credit activity, the results exceeded estimates by Matthew Burnell of Wells Fargo & Co. and Susan Roth Katzke of Credit Suisse Group AG. Equity-trading revenue declined 7 percent to $1.06 billion.
"In the fourth quarter we talked about client activity being very light, risk was off, so our risk was low and our balance sheet was conservatively constructed going into year-end," Lake told reporters. "Trading year-to-date has performed well."
Investment-banking revenue fell 11 percent to $1.47 billion on a drop in debt-issuance revenue, which plunged 43 percent to $602 million amid declines in high-yield debt. Merger-advisory fees rose 43 percent to $622 million and equity underwriting slipped 4 percent to $314 million.

Profit from consumer and community banking rose 10 percent to $2.41 billion. Revenue from mortgage fees and related income increased 2 percent to $11.2 billion, fueled by higher card and auto results.
Credit quality across card and commercial lending businesses "is as good as it's ever been," Chief Executive Officer Jamie Dimon said on a conference call with analysts. "The U.S. economy looks pretty good at this point."
Citigroup Inc., the third-biggest U.S. bank by assets, and Wells Fargo & Co., the top U.S. mortgage lender, are scheduled to report results Friday. Bank of America Corp., Morgan Stanley and Goldman Sachs Group Inc. will report next week.
Before it's here, it's on the Bloomberg Terminal.
LEARN MORE