Iran's Post-Sanctions Oil Surge Likely to Come in a Half Measure
by and
Output seen rising by less than half the promised amount

Years of sanctions and under-investment may slow growth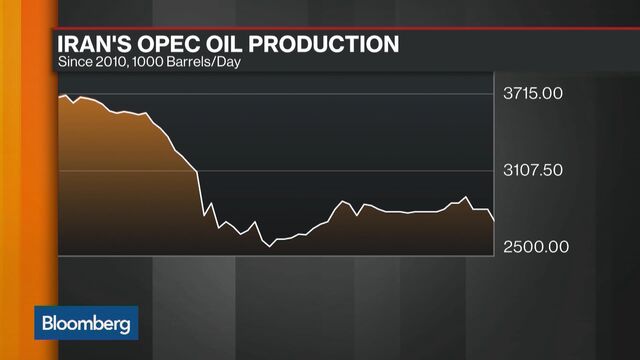 Iran may only be able to deliver about half of the promised surge in crude output after sanctions are lifted as it struggles to revive idled fields, according to banks including UBS Group AG and Saxo Bank A/S.
The Persian Gulf nation will increase crude oil production by 100,000 barrels a day, or 3.7 percent, a month after sanctions are lifted and by 400,000 in six months, according to the median estimate of 12 analysts and economists surveyed by Bloomberg. Oil Minister Bijan Namdar Zanganeh has pledged to boost output by half a million barrels a day within weeks of the end of sanctions and by the same amount again in six months. The strictures may be removed as soon as Jan. 18.

"After years of sanctions and under-investment, I doubt Iran can just turn up the volume quickly," Ole Hansen, head of commodity strategy at Saxo Bank in Copenhagen, said by e-mail. "On that basis it will take longer before they reach their full potential."
The International Atomic Energy Agency is expected to report Friday that Iran has fulfilled its commitments under July's nuclear accord with world powers, Iran's Deputy Foreign Minister Abbas Araghchi said in Tehran. That would enable a joint announcement by Jan. 17, implementing the deal and lifting sanctions, he said.
More Supply
Anticipation of higher supply from Iran -- OPEC's second-biggest producer before sanctions were imposed in 2012 -- has contributed to oil's plunge to the lowest price in almost 12 years. While the nation fights to regain lost customers following a nuclear deal with world powers, there is also skepticism that its targets are achievable without significant foreign investment to bring idled fields back to life.
Iran has said it will regain its lost market share, putting it into direct competition with Russia and fellow members of the Organization of Petroleum Exporting Countries. Saudi Arabia, the group's biggest producer, has anticipated the return of exports from its geopolitical foe by offering lower prices in Europe. The kingdom is pumping near record levels and increased the discount on its light crude grade for customers in the Mediterranean for February by 20 cents a barrel compared with the previous month.
The average price of crude sold by OPEC members slid below $30 a barrel Jan. 6, the lowest level in almost 12 years, on concern a slowdown in Chinese growth is deepening while global oil supplies continue to swamp demand.
Global Surplus
While Iran estimates that there's already a surplus of about 2.5 million barrels a day on the market, it insists there will be no curbs on its shipments until output is restored to pre-sanctions levels. Other countries that increased supply to Iran's former customers should now cut their production, Mehdi Asali, the country's OPEC representative, said Jan. 6, according to the Oil Ministry's news service Shana.
OPEC members failed to agree on cuts at their December meeting in Vienna, opting instead to effectively abandon any limits on output. Brent crude, the international benchmark, has fallen about 29 percent since that decision and traded at $30.56 a barrel at 2:02 p.m. London time on Thursday.
Anticipation of "the increase in production from Iran is the reason why we are down here," said Saxo's Hansen. "It will mean lower oil for longer."
Field Activity
Iran's output was already in long-term decline before the latest sanctions were imposed. It pumped 2.7 million barrels a day in December, making it OPEC's fifth-biggest producer, compared with about 3.6 million in 2011 and 4 million in 2008, data compiled by Bloomberg show.
"They have been quite active in negotiating, trying to figure some new contracts to attract the industry, but on the fields nothing really has happened yet," Per Magnus Nysveen, head of analysis at Oslo-based Rystad Energy AS, said by e-mail. To increase production "they need to add rigs, they have to boost their activity."
Rystad's predictions were among the most pessimistic in the survey, with estimates of just 150,000 barrels a day extra within six months of sanctions being lifted and 250,000 in a year. Iran will add 680,000 barrels a day of supply within 12 months, according to the median estimate of the survey. That exceeds the decline in production from countries outside OPEC forecast this year by the International Energy Agency. 
"It's because it's going to be very difficult for them after having been closed down for so long," Torbjoern Kjus, chief oil economist at DNB ASA in Oslo, said by phone. "The risk is to the downside." 
Before it's here, it's on the Bloomberg Terminal.
LEARN MORE