Intel Drops After Signaling Caution on World Economic Growth
by
Chipmaker cites weaker demand for PCs, servers in China

Year off to `soft' start after strong fourth quarter in 2015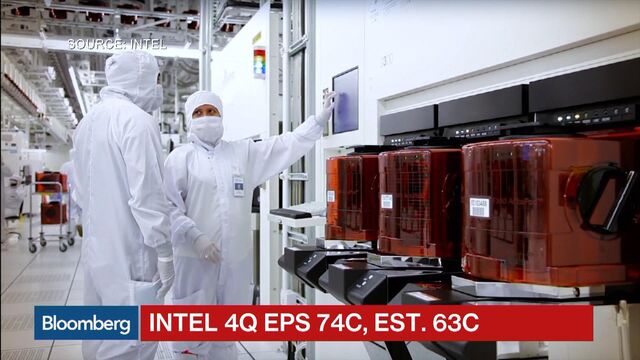 Intel Corp. shares tumbled the most in seven years after the company said 2016 is off to a "soft" start amid tepid economic growth, particularly in China, which is hurting demand for personal computers and the servers that have fueled growth.
The world's biggest semiconductor maker predicted revenue for the first quarter that fell short of analysts' estimates. Intel, which gets more than 80 percent of its sales outside the U.S., is "cautious on the level of economic growth" in China and the rest of Asia, Chief Financial Officer Stacy Smith told investors on Thursday.
Intel has weathered a four-year slide in PC sales by depending on demand for server processors, the main component in powerful machines that run data centers. Concern about the economy has consumers and companies in some parts of the world holding off on computer purchases, Intel said. As the first major U.S. technology to report earnings this quarter, Intel's forecasts are a blow to hopes that corporate results would bolster investor confidence in the robustness of the global economy, said Daniel Morgan, a fund manager for Synovus Securities Inc.
"It's very discouraging," said Morgan, whose firm holds Intel shares. "This is the first heavyweight tech company to come out and I was hopeful we could get a little lift."
PC Dominance
Intel's outlook also highlights the company's inability to wean itself from its reliance on the shrinking PC market, which still provides about 60 percent of revenue. Data-center sales slowed to an increase of 5.3 percent in the fourth quarter, limiting the unit's 2015 growth to 11 percent. The business had surged 18 percent in 2014.
Intel shares fell 9.1 percent, its biggest one-day decline since September 2008, to $29.76 at the close in New York. Stocks were lower across the board as the Nasdaq Composite Index plummeted 2.7 percent. Intel lost 5.1 percent of its value last year.

Revenue in the current period will be $14 billion, plus or minus $500 million, the Santa Clara, California-based company said Thursday in a statement. On average, analysts had projected sales of $14.2 billion, according to data compiled by Bloomberg.
Intel also said fourth-quarter net income slipped to $3.6 billion, or 74 cents a share, from $3.7 billion, or 74 cents, a year earlier. Revenue climbed to $14.9 billion. Analysts had projected earnings of 63 cents on sales of $14.8 billion, the average of estimates compiled by Bloomberg.
Gross margin, the only measure of profitabilitythat Intel forecasts, was 64 percent in the fourth quarter, and will contract to 58 percent in the current period, compared with an average analyst prediction of 61 percent. Gross margin is the percentage of sales remaining after deducting the cost of production.
Fourth-quarter revenue in Intel's PC-chip division fell 1.2 percent to $8.76 billion, or 59 percent of total sales. The data center group posted sales of $4.31 billion.
Intel's results and outlook include contributions from Altera Corp. for the first time, after its $16.7 billion acquisition of the chipmaker closed last month. The first-quarter forecast also includes an extra week over the standard three-month period.
Market Woes
Earlier this week, market researchers said worldwide PC shipments dropped in 2015, ending the year at fewer than 300 million units for the first time since 2008. PC makers sold 75.7 million machines in the fourth quarter, a decline of 8.3 percent from a year earlier, according to Gartner Inc., failing to get a boost from holiday sales as more consumers opt to purchase smartphones and tablets.
Though Intel's PC-chip division has been suffering, it still provides the revenue and volume of orders needed to justify the company's industry-leading investment in its factories. That production technology has helped Intel stay ahead in servers, which provide much wider profit margins. A top-of-the line Xeon part for servers has a retail price of more than $7,000 -- more than seven times the price of its most expensive desktop computer chip.
Before it's here, it's on the Bloomberg Terminal.
LEARN MORE