German-U.S. Yield Gap Narrows to 3-Month Low on Fed Reassessment
by
Carmignac prefers Treasuries to euro-area bonds on low growth

Treasuries have gained amid a $5.7 trillion equity rout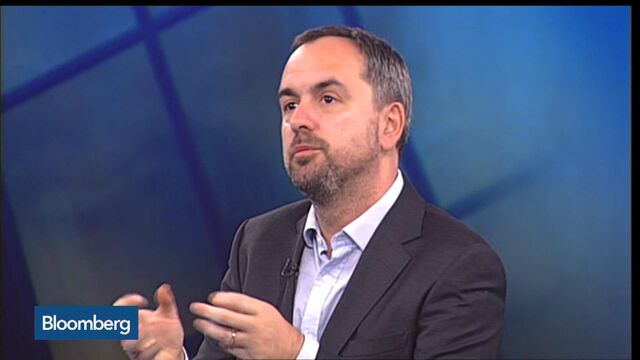 The yield gap between Germany's government bonds and U.S. Treasuries has fallen to the least in almost three months as market turmoil sparked by China has left investors reassessing the scope of the policy divergence between the Federal Reserve and the European Central Bank.
German benchmark 10-year bund yields have climbed this week after the nation sold debt due in February 2026. Meanwhile, Treasuries advanced as investors sought haven assets amid this year's $5.7 trillion global equity rout. U.S. 10-year yields fell, with traders pricing into futures fewer interest-rate increases from the Fed, reducing the odds of a move in March.

Carmignac Gestion SA, a Paris-based asset manager, said it preferred U.S. bonds over Europe's. Low global growth and a lack of inflation, particularly in the U.S., means the Fed will have a "difficult task" raising interest rates four times a year, as the latest forecasts from officials indicate, according to Sandra Crowl, an adviser at the firm which manages 52 billion euros ($56.5 billion) of assets.
"We position our portfolios in a market that is not as overbought, that has not already hit fair value, that has not been subject to excess central-bank purchases," Crowl said in an interview Wednesday. "You probably don't want to go into core Europe, but would favor U.S. interest-rate curves, given what the curve is pricing in is a growth rate that is 2.5 percent and above, where we believe it's probably 2 percent or even below."
European Curves
The ECB is buying about 60 billion euros of debt a month, in a quantitative-easing program set to run through March 2017, in an effort to revive inflation and growth in the region. German securities make up the largest national contribution to the purchases. This bond-buying program has pushed debt prices close to fair value, Carmignac's Crowl said. "This is not a good entry point to go into European curves," she added.
German 10-year yields were little changed at 0.57 percent as of the 5 p.m. close in London. The price of the 0.5 percent security due in February 2026 was 99.28 percent of face amount. U.S. 10-year yields dropped one basis point, or 0.01 percentage point, to 2.08 percent. The 1.51 percentage-point difference, or spread, was the smallest since Oct. 21, based on closing prices.
"The compression has been led by risk aversion and weakness in equities," said Luca Cazzulani, a senior fixed-income strategist at UniCredit SpA in Milan. "To some extent investors are seeking safe assets and even questioning the Fed outlook."
ECB Accounts
Some ECB policy makers argued in favor of making a deeper cut to the deposit rate and stepping up the monthly pace of bond-buying, an account of the Dec. 3 Governing Council meeting released Thursday showed. Officials disappointed investors then with a stimulus boost that included a cut to the deposit rate and extension of the asset-purchase program but they did not increase the pace of buying.
Italian 10-year bond yields rose two basis points to 1.58 percent, while the yield on similar-maturity Spanish was little changed at 1.78 percent. The Stoxx Europe 600 Index of shares dropped 1.5 percent.
Carmignac also said it was actively managing holdings in European peripheral bonds and had reduced the risk held in its portfolios.
"We have more risks in the market," Crowl said. "We have more political risks, we have more presence of the ECB as they continue every month, more of the bonds are being held and all we need is one surprise growth number from Europe which will push the yield curves back up again."
Before it's here, it's on the Bloomberg Terminal.
LEARN MORE