Fed's Bullard Says Oil's Fall May Delay Inflation Return to 2%
By
Bullard says inflation expectations may be hurt by the drop

St. Louis Fed leader says oil is still net positive for U.S.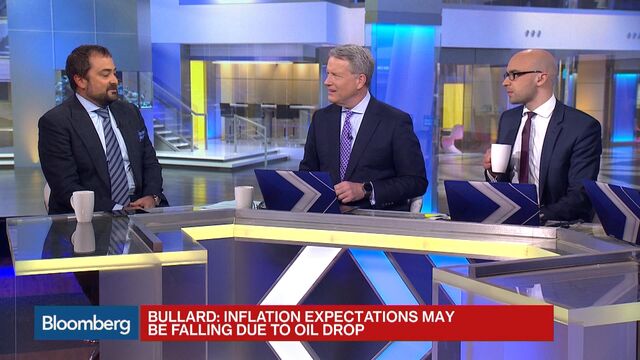 Federal Reserve Bank of St. Louis President James Bullard, one of the most vocal policy makers in recent months arguing to raise interest rates, sounded a more cautious note Thursday by saying the latest decline in oil prices may delay the return of inflation to the central bank's 2 percent target.
"With renewed declines in crude oil prices in recent weeks, the associated decline in market-based inflation expectations measures is becoming worrisome," Bullard, who votes on policy this year, said in a speech in Memphis, Tennessee. While central bankers typically "look through" oil price changes, "one circumstance where one may be more concerned is when inflation expectations themselves begin to change due to the changes in crude oil prices," he said.
The policy-making Federal Open Market Committee voted Dec. 16 to raise the nation's benchmark interest rate by a quarter percentage point, a move Bullard supported, based largely on progress made returning millions of Americans to work after the worst recession since the 1930s. The median projection of FOMC members submitted at the meeting called for four additional quarter-point increases in 2016.
Bullard told reporters after his speech that strong U.S. employment would argue that the FOMC'S median projection of rate increases totaling 1 percentage point this year is "about right," while inflation and price expectations concerns "would tend to push off rate increases." Bullard said he would put more weight on expectations if they continue to decline.
"Generally speaking, the markets and the committee are not thinking in terms of a January move," Bullard said. "As far as March, we would want to get more information and see how things play out before we make a judgment."
The U.S. economy is likely to grow 2.5 percent to 3 percent this year, and recent market volatility is no reason to revise that forecast, he told reporters.
Oil's Decline
In his prepared remarks to the Economic Club of Memphis, Bullard said the "very substantial" drop in oil prices has contributed to low inflation, and further declines may delay the return of inflation to target. Under a scenario in which prices fall through June, a return to 2 percent wouldn't occur until mid-2017, he said.
"Headline inflation will return to target once oil prices stabilize, but recent further declines in global oil prices are calling into question when such a stabilization may occur," he said.
The Fed's preferred gauge of inflation has remained under its 2 percent goal since May 2012, with prices rising 0.4 percent in the year through November. A further decline in crude oil to about $30 a barrel has further reduced the outlook for a pickup in prices this year.
Even so, Bullard described falling oil prices as a net positive for the U.S.
"Automobile sales, for instance, have been strong," he said. "More generally, real personal consumption expenditures growth accelerated during the period of the large drop in oil prices from mid-2014 to mid-2015. This could be viewed as mild evidence that the oil price decline is a bullish factor for the U.S."
The St. Louis Fed president has sometimes been a bellwether for the central bank, though in the past year his views have been more hawkish than the majority in wanting to move sooner to raise rates. Bullard in 2010 wrote a paper entitled "Seven Faces of the Peril," which called on the central bank to avert deflation by purchasing Treasury notes. That was followed by a second round of bond buying, or quantitative easing.
Bullard joined the St. Louis Fed's research department in 1990 and became president of the regional bank in 2008. His district includes all of Arkansas and parts of Illinois, Indiana, Kentucky, Mississippi, Missouri and Tennessee.