Exxon Must Wait for Iran Oil as European Rivals Poised to Pounce
by and
Separate layers of U.S. terror, missile sanctions will remain

European oil giants set to explore Iranian investment options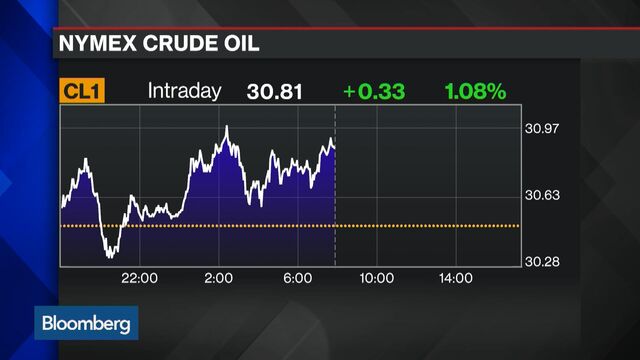 U.S. oil explorers will sit out the next big thing even as the end of nuclear sanctions opens Iran's vast fields to their British, French and Italian rivals.
When a decade of trade and banking restrictions against the Persian Gulf oil producer end, perhaps as soon as Monday, opportunities to invest in fields that hold almost 10 percent of the planet's known crude reserves will beckon. BP Plc, Royal Dutch Shell Plc, Total SA and Eni SpA have all said they are ready to pounce. New exports could yield about $5 billion a year.
U.S.-based heavyweights including Exxon Mobil Corp. and Halliburton Co. probably will have to wait -- and may miss out completely because of unilateral sanctions imposed by Washington to punish Iran for its involvement in terrorism and missile development. Those bans will stay in place despite the nuclear deal.
"No American national is allowed to be involved in the Iranian oil sector at all," said Patrick Clawson, director of the Iran Security Initiative at the Washington Institute think tank. "You can't use the American dollar either. For any American oil company with a hands-on CEO, forget about it."
The International Atomic Energy Agency is expected to report by Friday that Iran has fulfilled commitments under last year's agreement with the U.S., China, France, Germany, the U.K. and Russia, the Islamic Republic's Deputy Foreign Minister Abbas Araghchi said on Jan. 13. That would set the stage for a weekend announcement that the sanctions are over, he said.
Untapped Oil
Iran has said it can pump an additional 500,000 barrels a day into world markets, though some observers say the country can only add 400,000 barrels six months after sanctions end.
For oil explorers and the service companies they rely on to drill wells, Iran represents a huge bonanza. The Persian Gulf nation's 157.8 billion-barrel cache of untapped oil is more than four times the U.S. endowment, according to the Energy Information Administration in Washington. The country also boasts large natural gas reserves.
"Americans are being disadvantaged here," Dan Newcomb, an attorney who advises oil companies and banks on international sanctions at Shearman & Sterling LLP in New York, said in a phone interview. "If the Iranians are the warmongers some say they are, then why are we standing by while the Europeans go in."
Scott Silvestri, an Exxon spokesman, declined to comment. Emily Mir, a spokeswoman for Houston-based Halliburton, declined to comment.
Spending Cuts
Iran's return comes as the industry is poised to cut spending for a second straight year by 15 percent to $444 billion this year, compounding a 23 percent decline in 2015, according to Barclays Plc.
While U.S. sanctions allow foreign subsidiaries of American companies to operate in Iran, they require a separation of those projects from U.S. employees and offices, Clawson said. That means an engineering-planning department in Houston, for example, can't assist field crews in Iran.
Companies that pour cement for wells and install pressure-control devices may be tempted to set up complicated internal structures and controls to appease the U.S. Treasury Department's sanctions enforcers, James West, an analyst at Evercore ISI in New York, said in a phone interview. That's because Iran has plans to spend more than $10 billion a year to enhance its oil and natural gas output.
High Risk
Still, the risk may be too much for U.S. executives, especially since they could be forced to quit Iran and leave behind any investments if the nuclear deal is violated and sanctions are reimposed, West said.
And U.S. companies are mindful of the experience of Schlumberger Ltd., the world's biggest oilfield-services provider, Clawson said. The Houston- and Paris-based company was slammed with a $155 million fine, the largest-ever criminal penalty in a U.S. sanctions case, last year for providing and concealing services to Iran and Sudan. Schlumberger is also on probation for three years as part of its agreement with the U.S. government.
Schlumberger has "full exited Iran," Joao Felix, a spokesman, wrote Thursday in an e-mail. "When the sanctions are lifted and when it is permissible, we will evaluate going back in."
"It's still somewhat of a dicey proposition as we sit here today," West said. "They would also have to put personnel on the ground, which they're a little hesitant to do, given the tensions between the Iranians and the U.S."
Before it's here, it's on the Bloomberg Terminal.
LEARN MORE