Europe Stocks Circle Bear Market as Global Growth Worry Persists
by and
Renault tumbles after confirming raids by French fraud office

Sell highs as drop could deepen, Bankhaus strategist says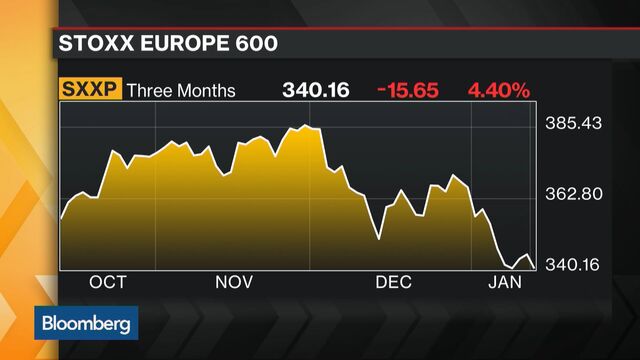 European stocks fell, snapping a two-day rebound, amid renewed concern about global-growth prospects.
The Stoxx Europe 600 Index declined 1.5 percent at the close of trading. It pared a drop of as much as 3.3 percent as energy producers reversed losses, following oil prices higher. Europe's benchmark has still tumbled 18 percent since an April high, inching closer to the common definition of a bear market.
"Everything boils down to concerns about global growth," said Ralf Zimmermann, a strategist at Bankhaus Lampe in Dusseldorf. "There are few people out there willing to buy the dips because everyone is scared that the selloff will be deeper the next day. And it has been. Sentiment is rock-bottom. I would sell any highs. There is definitely potential for bigger losses."

Stocks are falling in 2016 on concern China's slowdown may be worse than expected and as oil slumped further. A rally in Europe yesterday weakened heading into the close, signaling investors lack the conviction to drive a rebound after stocks' worst-ever start to a year. Prospects for global profit growth are also worsening, with analysts cutting forecasts by the most since 2009, according to a Citigroup Inc. index.
Among stocks active on corporate news, Renault SA plunged 10 percent after its offices in France were raided by government fraud investigators as part of a probe into vehicle emissions. Fiat Chrysler Automobiles NV tumbled 7.9 percent after two dealerships filed a federal lawsuit alleging the carmaker offered dealers money to falsify sales.
All Stoxx 600 industry groups dropped, except miners and oil companies. Lundin Petroleum AB jumped 19 percent, leading gains among energy producers, after Statoil ASA bought a stake in it. Anglo American Plc and Glencore Plc jumped 9.4 percent or more.
Travel-and-leisure shares fell the most. Restaurant Group Plc slumped 18 percent after saying it's more cautious than before on the outlook for 2016.
Cie. Financiere Richemont SA slipped 1.2 percent after posting its first decline in Christmas sales since 2008. Tesco Plc climbed 6.1 percent after reporting its first revenue growth in more than four years.
Before it's here, it's on the Bloomberg Terminal.
LEARN MORE