Equitable Adds Online Bank to Lure Deposits From Canadian Rivals
by
EQ Bank offers savings accounts paying 3% interest rate

Bank seeks slice of $280 billion held in low-interest accounts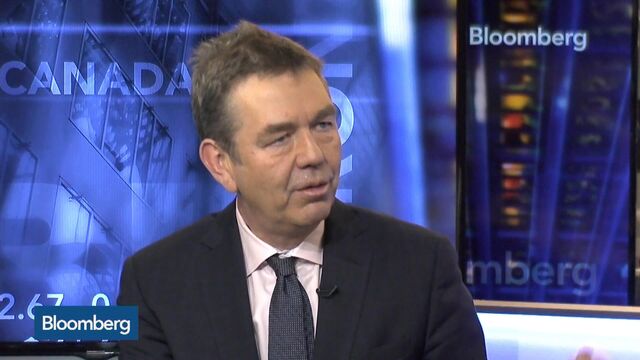 Equitable Bank, the Canadian alternative-mortgage provider, is jumping into the online banking business with a savings account that pays more than triple the interest rate of other branchless rivals.
Equitable started signing up customers this week for its EQ Bank, offering 3 percent interest on savings with no fees or minimum balance requirements. The account allows daily transactions including bill payments, e-transfers and moving money via computer or mobile phone.
"We're certainly seeking to shake up the marketplace a bit," Chief Executive Officer Andrew Moorsaid in a phone interview. "This is a digital bank built from the ground up, born in the mobile age of smartphones."
EQ Bank seeks to grab some of the C$400 billion ($280 billion) in Canadian accounts that pay little or no interest, Moor said. The country's big banks offer accounts that range from paying no interest to 0.6 percent, depending on balances and features, while online lenders such as Bank of Nova Scotia's Tangerine and President's Choice Financial, part of Canadian Imperial Bank of Commerce, have savings accounts that pay 0.8 percent.
'Digital Way'
"Anybody that offers a savings account could potentially be a competitor," Moor, 55, said. "We're certainly looking for people that are concerned about returns on their money and people that embrace the digital way of living."
ING Groep NV pioneered online banking in Canada with ING Direct in 1998. Scotiabank, the country's third-largest lender by assets, bought the business for C$3.1 billion in 2012 and renamed it Tangerine. Other online lenders, including PC Financial and Manulife Financial Corp.'s Manulife Bank, followed. The Internet is now the main means of banking for 55 percent of Canadians, according to the Canadian Bankers Association.
Equitable Bank, with assets of C$14.8 billion as of Sept. 30, makes most of its profit from single-family mortgages, commercial lending and financing of government-insured apartment buildings. The Toronto-based lender, a unit of Equitable Group Inc., also offers guaranteed investment certificates and a high-interest savings account, and as of Sept. 30 had C$8 billion in deposits.
Before it's here, it's on the Bloomberg Terminal.
LEARN MORE