deals
Edelweiss Said to Start Buying $492 Million Binani Cement Debt
By and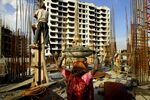 Edelweiss Asset Reconstruction Co., the largest buyer of bad debt from Indian lenders, is seeking to buy about 33 billion rupees ($492 million) in loans domestic banks made to Binani Cement Ltd., people with knowledge of the matter said.
Central Bank of India, a state-owned commercial lender, sold its 3.5 billion rupees of Binani Cement loans to Edelweiss last quarter, according to the people, who asked not to be identified as the information is private. The bad-loan manager is in talks to buy the remaining Binani Cement debt held by other local lenders including State Bank of Bikaner & Jaipur and Syndicate Bank, the people said.
Edelweiss is finding opportunities after the stressed-asset ratio in the country's banking system hit a 13-year high of 11.3 percent at the end of September. The building material producer, which is a unit of Mumbai-listed Binani Industries Ltd., reported a net loss of 1.04 billion rupees for the 12 months through March 2015. 
Binani Cement's debt was restructured by a group of creditors, known as a joint lenders' forum, according to a company filing. It has operations in China, India and the United Arab Emirates with an annual production capacity of 11.25 million tons, including about 6.25 million tons of domestic capacity, its website shows.
Edelweiss is one of 15 asset-reconstruction companies formed out of a law passed in 2002 to help banks clean up their balance sheets. The companies buy non-performing and restructured loans, selling them off later after reviving struggling debtors through fund infusions and changes in business strategy.
A representative for Edelweiss didn't immediately respond to an e-mail and phone call seeking comment. Binani Cement Managing Director Jotirmoy Ghose didn't respond immediately to an e-mail and a call to his office in Mumbai seeking comment. 
Central Bank of India Chairman Rajeev Rishi didn't answer two calls to his mobile phone seeking comment. Syndicate Bank Chief Executive Officer Arun Shrivastava didn't immediately respond to two calls to his office and an e-mail, while Jyoti Ghosh, managing director of State Bank of Bikaner & Jaipur, didn't respond to an e-mail seeking comment.
CNBC-TV18 reported the deal earlier Thursday in Mumbai, citing unidentified people.
Before it's here, it's on the Bloomberg Terminal.
LEARN MORE