Populist Wilders Says EU Is Finished as He Leads Dutch Polls
Corina Ruhe and Celeste Perri
Freedom Party leading in polls ahead of elections next year

`Brexit' would encourage other EU members to take same step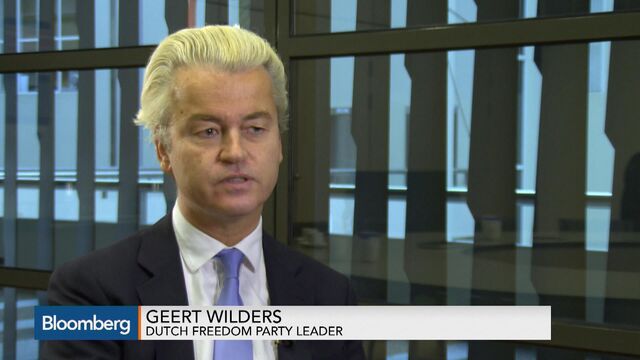 The European Union is teetering, and Dutch Freedom Party leader Geert Wilders wants to tip it over the edge.
QuickTake Europe's Refugee Crisis
Wilders, 52, whose party leads opinion polls with calls to close Dutch borders to refugees, pledged to immediately pull the Netherlands out of the 28-nation EU should he become prime minister in elections due in March next year. The EU is unraveling and that's to be encouraged, he said, urging the U.K. to quit the bloc in its forthcoming referendum.
"We are not sovereign any more; we are not even allowed to form our own immigration policy or even close our borders and I would do that," Wilders said Thursday in an interview in the Dutch parliament building in The Hague. "I would wish the Dutch to be more like Switzerland. In the heart of Europe, but not in the European Union."
A household name in the Netherlands since 2004, when he split from the mainstream Liberal party to form his own on an anti-Islam platform, the bouffant-haired blond has enjoyed a swell of support as voters grow increasingly alarmed at the arrival in Europe of more than a million refugees from Syria and elsewhere. The latest poll showed him winning the most parliamentary seats -- as many as Prime Minister Mark Rutte's Liberals won in 2012 -- if elections were held now.
After years of turbulence surrounding Greek membership of the euro, the focus of uncertainty in the EU has shifted to Britain, where Prime Minister David Cameron is set to call a referendum as early as June on whether the U.K. should stay in or leave. Wilders said he "hopes" Britons will opt to quit, with a knock-on effect on the Netherlands.
'Enormous Incentive'

In the event of a so-called Brexit, "you will see that it will be easier for other countries to make the same decision," Wilders said. "The beginning of the end of the European Union has already started. And it can be an enormous incentive for other countries if the United Kingdom would leave."
Wilders's Freedom Party is at the vanguard of a movement of populist parties on both right and left that are making inroads across Europe espousing a mixture of anti-austerity, often euro-skeptic and sometimes anti-immigration policies.
The Netherlands has been a forerunner in the splintering of European politics and ideologies. While Spain made headlines in December for having four major parties competing in elections for the first time, the Netherlands saw 11 groups gaining parliamentary seats in the last election. That makes coalition-building difficult and stable governments increasingly rare. Early elections have been called four times in 10 years. If the current Liberal-Labor cabinet completes its full term, it would be the first to do so for nearly two decades.
For Wilders to succeed Rutte, he will need to ensure that the Freedom Party emerges "as big as possible" from the next elections. Amid a fractious parliament, sizable support would make it difficult for other groups to shun him as he bids to form a government, he said. "I believe that parties that exclude us today will have a different tune next year."
Support for the Freedom Party has risen to the equivalent of 41 seats in the 150-member Dutch parliament, up from 15 in the 2012 elections. The Liberals have sent mixed messages on cooperating with Wilders, while the Christian Democrats have ruled it out in the past. The two parties are battling for second place in the polls.
'Given Away'
Wilders says he's ready to form a government with the Liberals, though he won't work with the premier himself. Rutte has "given Holland away," Wilders said, blaming him for "so many austerity measures to touch the Dutch with lower pensions, lower benefits for the elderly, higher taxes, at the same time giving all that money to, for instance, Greece, or asylum seekers."
The Netherlands gave refuge to 59,000 people last year -- a fraction of the number entering Germany -- at a cost to the government of 1.2 billion euros ($1.3 billion), Finance Minister Jeroen Dijsselbloem has said.
Wilders, who lives under constant government security protection, rejects the idea that Syrians seeking a home in the Netherlands are refugees at all, noting that to get there, they passed through other peaceful countries. He says Gulf nations should take more people in and Syrian men of military age should return to the country to fight, rather than European troops being sent in. Dutch warplanes are flying missions over Iraq in order to fight Islamic State.
"Europe cannot handle this any more," Wilders said, citing incidents such as the sexual assaults reported in Germany over the New Year's celebrations, including in Cologne, close to the Dutch border.
Since Wilders left the Liberals amid opposition to the party's support for Turkish EU membership and tension from his anti-Islamic rhetoric, he's used the media to boost support and awareness for his cause. In 2008, he released "Fitna," a movie showcasing his views on Islam.
'Fewer Moroccans'
Of course, Wilders has plenty of opposition at home. He's been put on trial once before for inciting hatred with his speech and will again appear before a Dutch court in March for remarks he made in 2014 calling for "fewer Moroccans" in the country.
That statement and its impact on young people in the Netherlands were "so horrible," Rutte said on Dutch television Sunday. The prime minister said he would only consider governing with Wilders if he withdrew the comments, before adding that he's not eager to govern with him even after meeting that condition. On Thursday, the Freedom Party leader refused to recant or apologize for his statements.
Wilders has enjoyed popular support before in polls, only to falter on election day. He acknowledged that he needs to keep voters engaged over the next year, saying he's not celebrating yet.
"The good news is that you see now in any European country parties like mine are on the rise and we can be very influential, as my party was, outside the government," he said. "The best would be to win elections inside the government. That's my aim and that is our goal."
Before it's here, it's on the Bloomberg Terminal.
LEARN MORE