China Gets Its Wish as Offshore and Onshore Yuan Now Near Parity
by and
Ratio between them had been at record high before intervention

Mainland price hasn't been so close to counterpart in months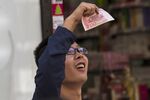 China's intervention in the currency market this week has all but closed the gap between the yuan trading in Hong Kong and mainland.

The offshore yuan had been weaker than the onshore version by the most since 2010, when China allowed its currency to trade overseas, with the ratio between the two at 1.02. The divergence peaked when People's Bank of China on Jan. 6 cut the onshore currency's reference rate by the most since Aug. 13, prompting international investors to sell offshore yuan on speculation that policy makers weren't done depreciating the country's legal tender.
In response, the government repeatedly intervened in Hong Kong's foreign-exchange market, buying up offshore yuan and shrinking the gap to its narrowest since November.
Before it's here, it's on the Bloomberg Terminal.
LEARN MORE