Charting the Markets: More Bad News for Global Stocks
Chinese stocks see a late-day rise, while the Hong Kong dollar slumps and Brent crude holds above $30.
by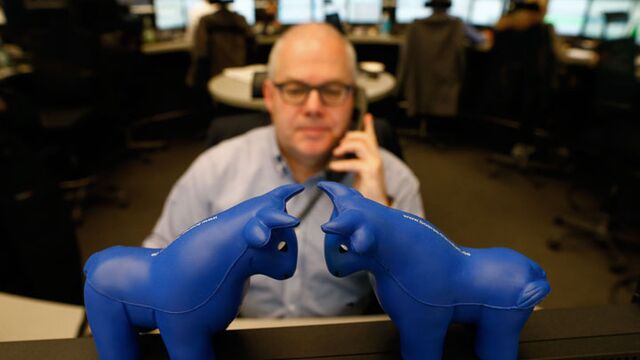 Global stocks dropped for the eighth day in nine, with the MSCI All Country World Index falling to its lowest level since September. Today's drop was prompted by Wednesday's sell-off in the U.S - the S&P 500 Index fell 2.5 percent - and continued concerns about the health of China's economy. Indonesia's rupiah and the Jakarta Composite Index pared earlier losses after suspected Islamic State militants staged a gun-and-bomb assault in central Jakarta. Several people died in the worst attack in since at least 2009.

China's Shanghai Composite Index flirted with a bear market before closing 2 percent higher. Earlier in the session the gauge sank as much as 2.8 percent, bringing declines since December's high to 20 percent - commonly known as a bear market. The drop also pushed the index below the lowest levels reached in last summer's rout. The rebound may been prompted by further state-backed buying. The Shanghai Composite Index is 2016's worst-performing stock market, out of the 93 tracked by Bloomberg, with a decline of 16 percent.

Investors are questioning whether the Hong Kong dollar's 32-year peg to its U.S. counterpart will hold after it registered its biggest decline since 2003, falling 0.21%. The currency closed at its lowest since 2011. As sentiment towards China worsens, more volatility could be on the way. One-year implied volatility on the Hong Kong dollar, a measure of expected price swings over the next month, has risen to a 12-year high in January. Hong Kong's Hang Seng Index fell as much as 2 percent before a late-session mainland rebound cut those losses to 0.60 percent at the close.

Brent crude dropped for a ninth day, the longest losing stretch since July 2014. Earlier it fell below $30, having crossed that threshold on Wednesday for the first time since early 2004. The European benchmark traded at its biggest intraday discount to West Texas Intermediate since January 2015. A global glut in oil has been reaffirmed by the latest data out of the U.S. Stockpiles gained by 234,000 barrels last week. Meanwhile supplies at the biggest U.S. storage hub at Cushing, Oklahoma rose further to a record. Attention now turns to Iran. Sanctions on the country may be lifted on Monday, paving the way for added shipments. Brent crude has sunk 19 percent in 2016.
Mark Barton is a presenter on Bloomberg TV. Follow him on Twitter @markbartontv
Before it's here, it's on the Bloomberg Terminal.
LEARN MORE