Caught in $30 Oil Vise, Russia Agonizes Over Rising Bond Bills
By
Diminishing rainy-day funds leave few deficit-cutting options

Borrowing costs of more than 10 percent give Siluanov pause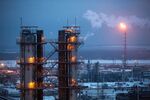 Oil at $30 a barrel is rapidly depleting rainy-day funds Russia uses to finance its deficit, and that could mean more visits to the bond market at a time it least wants.
In an interview with Bloomberg TV on Wednesday, Finance Minister Anton Siluanov said he's loathe to saddle the economy with debt at current yields to plug a budget shortfall. Money managers at Raiffeisen Asset Management and PineBridge Investments say it's a route the government may not be able to avoid even with five-year yields at 10.77percent, the highest borrowing costs for Russia since Oct. 6 amid a selloff in riskier assets as commodity prices fall and concern deepens over China's slowdown.
"They need to try and borrow as much as possible to plug the fiscal gap," said Konstantin Artemov, money manager at Raiffeisen Asset Management in Moscow. "The Reserve Fund will be exhausted this year or next."

In Siluanov's arsenal for tackling the budget shortfall, bonds are usually option B. The main source of cash is the Reserve Fund, one of two sovereign wealth funds accumulated when the economy was awash in export revenue. After that plunged 16 percent in December to $50 billion, officials face the less-appealing option of boosting debt to avoid burning through the remaining coffers.
"For Russia it's still expensive," Siluanov said. "We are cognizant that even while Russia has relatively low leverage, if we increase the debt, this will lead to bigger interest payments, and hence to smaller non-interest spending. That's why we don't want to increase the borrowings drastically."
Budgeting Oil
Crude, Russia's biggest export earner, dropped 4.7 percent to a 12-year low of $29.56 a barrel at 1 p.m. in London on concern that turmoil in China's markets will curb energy demand. Even at the 2016 budget assumption of oil at an average $50 per barrel, the shortfall will be 2.36 trillion rubles ($30.9 billion), about 3 percent of gross domestic product. The Finance Ministry is targeting 300 billion rubles in net borrowing this year compared with 80 billion rubles in 2015.
"At the moment they're relying on spending cuts and the Reserve Fund, which is leaking fast," said John Bates, a senior vice president at PineBridge Investments in London, which has about $80 billion in assets under management. "They may be forced to revise the budget assumptions on oil in order to address this as well as further debt issuance, although conditions are clearly challenging."
Russian government bonds in rubles have lost 6.2 percent in dollar terms so far this year, the worst performance among developing-nation peers this year after Nigeria, according to data compiled by Bloomberg.
Auction Appetite
Still, the government's first two auctions of the year raised 17.3 billion rubles of bonds at par, 97 percent of the targeted amount. Monetary policy easing will help the finance ministry sell bonds, said Leonid Ignatyev, fixed-income analyst at BCS Financial Group. The median estimate of 24 economists surveyed by Bloomberg is for the key rate to be lowered to 8.5 percent by the end of the year from 11 percent.
Raising money in the bond market to bridge a budget gap is feasible if the government is prepared to pay yields high enough to lure investors, said Raiffeisen Asset's Artemov.
"It's not that simple, but there is a solution," Artemov said. "Offer a good price, and you sell."