Race for the White House
Sanders, Clinton Going Down to the Wire, Iowa Poll Shows
In the last month, the gap between the two top Democratic presidential contenders has narrowed in the state that will cast the first ballots of the 2016 race.
By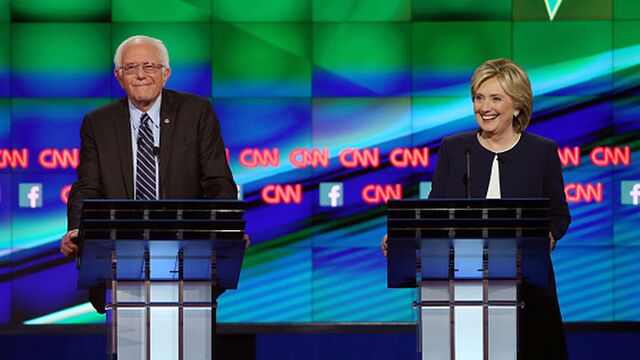 Democrats Hillary Clinton and Bernie Sanders are locked in a two-point race in Iowa ahead of the Feb. 1 caucuses, raising the prospect that eight years after her stinging loss there to Barack Obama, the state that kicks off the presidential nominating process may once again deal the front-runner a momentum-sapping blow.
Clinton leads Sanders 42 percent to 40 percent, a significant narrowing of her nine-point lead last month as her own appeal has eroded, according to a Bloomberg Politics/Des Moines Register Iowa Poll released Thursday. A third contender, former Maryland Governor Martin O'Malley, is at 4 percent. While Clinton publicly shrugs off the polls—"I just don't pay that much attention to them," she said Wednesday on CBS—the tightening race is reflected in the campaign rhetoric: In recent days, both she and her daughter, Chelsea, have stepped up criticism of Sanders, a one-time Senate colleague of Clinton's. Sanders, a 74-year-old socialist who caucuses with Senate Democrats, though he is registered as an independent, is returning the favor, suggesting that Clinton's more aggressive tone is a sign that her campaign is in "serious trouble."
Just weeks before votes will be cast, the race remains fluid: 40 percent of those surveyed say they either have not selected a first choice or may be persuaded to change their minds about whom to back in the nation's first nominating contest.
Read the questions and methodology here.

The poll findings suggest challenges facing both candidates: For Sanders of Vermont, the question is whether he can persuade first-time caucus-goers, the young people, and the independents who like his views to become voters. For Clinton, a former first lady, U.S. senator, and secretary of state—and second-time presidential candidate—it's all about whether the poise and polish accumulated during years of resume-building will prove a liability in a year when voters are more sympathetic to insurgents.
"Democrats are much more likely than Republicans to say this is an election about issues, rather than leadership. That really explains the division in the party," said pollster J. Ann Selzer. "Half of those who say this election centers on issues support Bernie Sanders, versus 37 percent for Clinton. Among those who say the election is about leadership, it's just the opposite. Half say Clinton is their first choice, versus 29 percent for Sanders."
Overall, a majority of those surveyed—57 percent—say the election is more about issues than leadership, and among the issues that Democratic caucus-goers identified as top priorities are the economy, civil rights, the gap between the rich and poor, and national security. Clinton and Sanders supporters feel nearly equally strongly about all those issues with two notable exceptions: National security is rated extremely important by 65 percent of those supporting the former secretary of state, compared to 45 percent of Sanders supporters. The gap between rich and poor is ranked extremely important by 79 percent of Sanders supporters, compared to 60 percent of Clinton's.

Conducted Jan. 7-10 for Bloomberg Politics and the Des Moines Register by Selzer & Co., the Iowa Poll of 503 likely Democratic caucus-goers has a margin of error of plus or minus 4.4 percentage points.
It comes as Sanders is making a major push. According to data compiled by the ad-tracking firm Kantar/CMAG, Sanders has outgunned Clinton in broadcast television ad buys over the last month, with the biggest disparity coming in Iowa. The senator has purchased 5,042 spots to Clinton's 3,620. Many of those ads focus on his role as a champion of the poor and middle class, such as this one, which Kantar calculates has aired 1,543 times in Iowa during the past month:
The closing of the gap between the two top Democratic contenders mirrors what the Iowa Poll found in the Republican race. Like Senator Ted Cruz, who in December had opened a 10-point lead over businessman Donald Trump among likely Republican caucus-goers, Clinton over the past month has seen support for her soften among her party's likely caucus-goers. Meanwhile Sanders's support, like Trump's on the Republican side, is essentially unchanged. Clinton dropped to 42 percent from 48 percent in a December survey, while Sanders edged up to 40 percent from 39 percent.
Sanders continues to rely on the same coalition that gave Obama his first win in 2008. Sanders leads Clinton decisively among three demographics responsible for the president's 2008 upset: 52 percent to 34 percent among first-time caucus-goers; 62 percent to 21 percent among independents; and 59 percent to 27 percent among people under 45. Together those demographics comprise 57 percent of all likely Democratic caucus-goers. But Clinton, Obama's one-time rival turned ally, has made some inroads in his coalition: Among survey respondents who said they caucused for Obama in 2008, Sanders leads Clinton by a statistically insignificant 41 percent to 39 percent.

A caveat for Sanders is that his support appears to be concentrated in three Iowa counties—Black Hawk, Johnson, and Story—that are home to state universities. Those counties, where Sanders leads Clinton, 52 percent to 30 percent, account for 27 percent of his vote but just 21 percent of likely Democratic caucus-goers, underscoring the extent to which Sanders is relying on younger voters, a notoriously difficult group to turn out.
Still, Sanders appears to have one built-in advantage and he seeks mobilize his fans into voters: His supporters are more active than Clinton's on social media. Asked about their social media habits, 49 percent of Sanders backers surveyed say they follow candidates on social media, while that was true for 30 percent of Clinton supporters. Meanwhile, 34 percent of Sanders supporters say they've already posted positive comments about candidates compared with 19 percent of Clinton supporters; 17 percent of Sanders backers and 6 percent of Clinton backers have posted negative comments about candidates.
"Within the people of my generation I feel it's a close race," said Elisabeth Angeroth Franks, 27, who teaches English in China but is home in Des Moines between semesters. "Especially on Facebook and social media, I see a lot of my friends are split between Hillary and Bernie."
Franks said she plans to caucus for Clinton because she thinks her experience as secretary of state has prepared her better, while "if Hillary hadn't had the background of the Obama administration and the foreign policy I'd have easily supported Bernie, especially his social policies." While Sanders is the only candidate sending her mail, she said, Clinton is connecting with her through social media.
Christopher McTurk, 49, of Des Moines, said he is leaning toward Sanders because "he wants to straighten up Washington and help out the economic status" but that Clinton is a fighter and "that's one thing I like about her." He said both campaigns had reached out to him to ask for his support, but that Clinton's campaign telephoned while Sanders's team visited him in person. Asked if he thought Sanders wanted his support more, McTurk said yes.
Clinton holds a significant edge over Sanders among seniors, women, Democrats, ideological moderates, and people with incomes of $100,000 or more.
Electability in the general election is extremely important to 64 percent Clinton backers but only 35 percent of Sanders fans. Being able to change government for the better is extremely important to 67 percent of Sanders backers but 52 percent of Clinton fans.