Photographer: Ty Wright/Bloomberg
BHP Faces Music on Shale Spurring Belief Dividend Is Next
by and
Impairment to reduce value of unit to about $16 billion

Producer spent $20 billion in 2011 to acquire U.S energy plays
BHP Billiton Ltd. said it expects to take a writedown of $4.9 billion on the value of its U.S. shale assets due to the tumble in oil prices. Its next safeguard against the commodities collapse may be to abandon its decade-old pledge to maintain or raise its dividend. The stock slumped to the lowest in 10 years in London.
The Melbourne-based producer, the biggest overseas investor in U.S. shale, is cutting capital expenditure and seeking other savings as it grapples with the slide in prices of metals and energy, and the costs of November's deadly dam breach at its iron ore venture in Brazil. Iron ore, the company's top earner, has slipped more than three-quarters since its 2011 peak, while oil this month plunged below $30 a barrel for the first time in 12 years.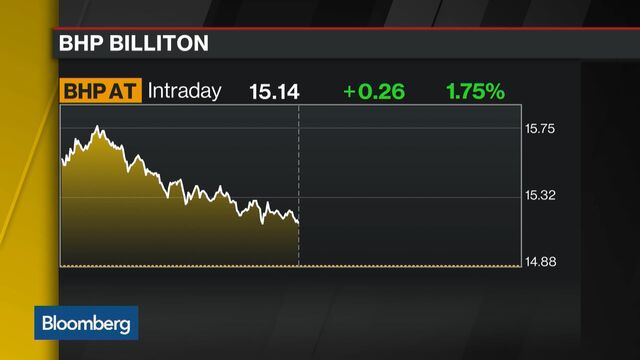 BHP's post-tax charge against its U.S. onshore assets, acquired for $20 billion in 2011, is part of a rolling response to the slump in raw materials, which this week has seen rival miner Rio Tinto Group freeze wages for 2016 and Japanese trading house Sumitomo Corp. take a charge of around $650 million against its nickel project in Madagascar.
"In what's probably a protracted period of lower commodity prices, there's this writedown and probably other writedowns to come elsewhere in the portfolio," Tim Schroeders, a Melbourne-based portfolio manager at Pengana Capital Ltd., said by phone. "They are getting close to having to come clean on the progressive dividend." Schroeders helps oversee about $1 billion in equities, including BHP shares.

BHP will cut its dividend payment by half to 31 U.S. cents in the six months to Dec. 31, according to Bloomberg Dividend Forecasts.
"At the moment, the biggest concern they have is can they fund their dividend, can they fund their capex plans?" Citigroup Inc. analyst Clarke Wilkins said by phone from Sydney. BHP is likely to trim both its dividend and project spending when it announces half-year results next month, he said.
BHP will balance its commitment to a strong balance sheet and maintaining its credit rating as it considers the dividend payout, Chairman Jac Nasser told investors at an annual meeting in Perth in November. The company declined to comment Friday on the prospect of any change to its dividend.
The writedown on its U.S. shale assets would extend to about $8.7 billion the post-tax charges BHP has booked against the operations in Arkansas, Louisiana and Texas. The new impairment will reduce the value of the business to about $16 billion, BHP said Friday in a statement.
BHP Shares
BHP slumped 6.4 percent to close at 615 pence in London, the lowest since May 2005, as a gauge of mining stocks retreated. The company's shares had jumped 6 percent on Thursday as iron ore and oil gained.
"All things considered, it's probably a bigger writedown than many had expected, even if some were pricing in a writedown," Melbourne-based IG Ltd. analyst Angus Nicholson said by phone. The producer's Sydney shares are near the lowest since 2005.
Crude oil prices dipped this week after falling the past two years, prompting tens of billions in impairment charges as companies including Royal Dutch Shell Plc and Chesapeake Energy Corp. reassessed the value of their operations. For BHP, the world's largest mining company, oil and gas prices have remained below the levels that it said last year it needed for its onshore division to be cash flow positive.
'Forked Out'
"BHP forked out a reasonable sum of money to buy all these U.S. assets," said David Lennox, resource analyst at Fat Prophets in Sydney. "It's not good that this has happened, but they are in the business of producing oil and gas, and the shale assets are going to be around for another 40 years. We expect energy prices will recover in the latter half of this year."
BHP will cut its rig count in the shale unit from seven to five by April and has put investment and development plans for the remainder of this fiscal year under review, according to its statement.
"While we have made significant progress, the dramatic fall in prices has led to the disappointing writedown," Chief Executive Officer Andrew Mackenzie said in the statement. "However, we remain confident in the long-term outlook and the quality of our acreage. We are well positioned to respond to a recovery."
Before it's here, it's on the Bloomberg Terminal.
LEARN MORE