Australia Caps Biggest Jobs Gain Since '06, Defying Mining Slump
by
Report signals central bank may hold off on more rate cuts

Services industries healthcare, tourism are spurring hiring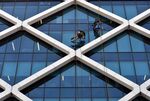 Defying the demise of a once-in-a-century mining-investment boom, Australia last month capped its strongest year for job growth since 2006, with the country's services sector propelling gains.
Thursday's jobs report showed:
* Employment fell 1,000 from November; economists forecast 10,000 drop
* Unemployment held at 5.8%; economists predicted 5.9%
* Full-time jobs rose by 17,600; part-time employment fell by 18,500
* Participation rate, a measure of labor force in proportion to the population, fell to 65.1 percent from 65.3%; economists predicted 65.2%.
Australian policy makers want to guide the economy away from reliance on natural resources and toward industries like tourism, education and construction as they try to spur hiring of ex-miners. The central bank cut its benchmark to a record-low 2 percent in May, and the currency has fallen 15 percent in the past 12 months, aiding the transition.
One caveat for Australian jobs figures has been questions regarding their accuracy, following acknowledgment by statistics-agency officials in 2014 of measurement challenges. Today's report showed the economy added 301,300 jobs in 2015, and 129,000 in the three months through December, the largest quarterly increase since records began in 1978.

"Most people will conclude that the economy is doing well and transitioning
away from mining toward service sectors," said Andrew Ticehurst, an interest-rate strategist at Nomura Holdings Inc. in Sydney. "There's some positive signs here but we need to think about the pace of growth which is going to be created under this transition."
Australia's economy has grown at less than its long-term average for six of the past seven years and is grappling with plunging commodity prices as demand from key trading partner China eases and output from newly opened mines increases. That comes against a domestic backdrop of stagnant wages and falling business investment.
The currency traded little changed at 69.39 U.S. cents at 12:54 p.m. in Sydney from 69.37 cents before the data were released. Traders are pricing in just over a 50 percent chance the Reserve Bank of Australia will reduce its cash rate from an already record-low 2 percent by May, according to swaps data compiled by Bloomberg.
Regional Shift
Australia added 55,000 jobs in October and another 74,900 in November, raising hopes it is adjusting to the unwinding of the mining-investment boom. The economy, which was driven by resources in the country's north and west during the decade-long mining boom, when other industries stagnated, is now being spurred by services in the south and east. The RBA's rate cuts have also driven up property prices and sparked a housing construction boom.
"Consumer spending is being buoyed by the gains in home prices over the past year," said Craig James, a senior economist at the securities unit of Commonwealth Bank of Australia. "And then there are the demographics -- an aging population continues to create jobs in the health care sector. And the strength of the tourism sector is being underestimated. Almost half a million additional tourists visited our shores in 2015."
The better jobs market is timely for Prime Minister Malcolm Turnbull, who ousted Tony Abbott in mid-September, and faces an election later this year.
Australia's economy had been underpinned by Chinese demand for resources to build apartment blocks and other infrastructure as millions of rural dwellers moved to the cities. But China is now overseeing a transition in its own growth model toward consumption, and policy makers' efforts to liberalize markets are causing ructions.
Nomura's Ticehurst expects Australia's central bank may still need to cut rates, and cites the world's second-largest economy as a potential reason.
"Global events, especially in China, could well take the decision out of the
RBA's hands," he said.
Before it's here, it's on the Bloomberg Terminal.
LEARN MORE