Asahi Kasei, Sumitomo Mitsui Drop on Tilted Building Penalties
by
Land ministry issues business improvement orders on companies

Falsified data was found at the leaning Yokohama building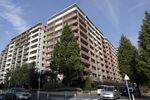 Asahi Kasei Corp., Sumitomo Mitsui Construction Co. and Hitachi High-Technologies Co. fell in Tokyo trading after Japan's land ministry penalized the three companies found to have violated the building code in the construction of a residential tower that's tilted to one side.
Shares of Asahi Kasei, the subcontractor of the leaning building, fell as much as 3.8 percent and Sumitomo Mitsui, the contractor, declined as much as 6.7 percent as of 9:34 a.m. local time. Hitachi High-Technologies, which was in charge of overseeing the foundation pile installation, dropped as much as 4.4 percent.
The land ministry ordered Hitachi High-Technologies and Asahi Kasei Construction Materials, a unit of Asahi Kasei, to suspend their business for 15 days. It banned Sumitomo Mitsui from land ministry contracts for one month. The orders came after an apartment building in Yokohama was found to be leaning due to falsified data on the installation of foundation piles.
Sumitomo Mitsui shares have slumped 37 percent and Asahi Kasei has declined 17 percent since Oct. 13 when news of the flawed building first emerged.
Before it's here, it's on the Bloomberg Terminal.
LEARN MORE