Argentina President Macri Throws Open the Books
The country's new leader, unlike the old one, wants to talk.
By and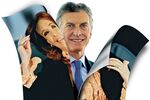 From a rundown government building in Buenos Aires, a reserved economist named Jorge Todesca is leading a glasnost of sorts in Argentina. A few weeks after winning November elections, President Mauricio Macri—a wealthy businessman and former Buenos Aires mayor—put Todesca in charge of the national statistics institute. Macri cleared Todesca and his ministers to talk freely about the nation's economic data and just about everything else.
That may seem like the norm in other democracies, but not Argentina. The government of Macri's predecessor, Cristina Fernández de Kirchner, was suspected of manipulating statistics so much that in 2013 Argentina became the first nation to be censured by the International Monetary Fund for inaccurate data. The then-finance minister called the censure "baseless." Now, Todesca openly discusses recovering the ability to produce believable statistics: "This institution and others draw a line between what's true and what's a lie." Fernández didn't respond to requests for comment.
Macri, who was born into a wealthy family and was once president of the wildly popular Boca Juniors soccer club, won a narrow runoff victory on promises to attack corruption and drug trafficking, erase poverty, and scrap heavy state controls over the economy. Since taking office on Dec. 10, he's eliminated currency controls, slashed export taxes, and sacked no-show state workers.
In mid-January, Macri sent his top finance officials to New York for talks with creditors demanding payment for bonds the nation defaulted on in 2001. A settlement would let the government borrow from foreign investors for the first time in a decade. "That transparency is going to be critical," says David Tawil, co-founder of distressed-asset fund Maglan Capital in New York. Under Macri so far, officials at all levels are talking about inflation, taxes, exchange rates, and harvests.
Fernández, a lifelong member of the populist Peronist movement, seized control of vast sections of the economy, including the energy and media industries. She used welfare, generous state subsidies, taxes, trade protection, and currency controls to try to fuel growth. She left behind an economy in tatters, with inflation upwards of 25 percent, two years of stagnation, dwindling reserves, and escalating budget deficits.
Fernández's ministers rarely commented on anything in public. The fear of speaking up touched all levels of society, business, and government, says José Nun, who was secretary of culture under Fernández and Néstor Kirchner, Fernández's late husband and predecessor. "You have to understand that Cristina was above all a populist, and populists believe they are the sole representatives of the people's desire," says Nun, who quit Fernández's government to join the opposition and now runs the doctorate program in sociology at San Martín National University.
In her eight years in office, Fernández communicated via prolific tweeting, pronouncements on national television, and pro-government programming on state media—but held very few news conferences. Marcos Peña, Macri's 38-year-old cabinet chief, says his boss is already radically different. Macri has called two news conferences in his first month. He's also planning to attend the annual gathering of the economic elite in Davos, Switzerland, something Fernández never did. "Uniting Argentines has a lot to do with your word," says Peña. "There has been almost a mega-devaluation of the value of the word of the state or of politicians, and that's one of the biggest problems this country has," he says, sitting in his sprawling office in the presidential palace, known as the Pink House.
Macri is trying to tone down a quarrel Fernández started. She clashed with farmers across the pampa, a Texas-size region of fertile farmland. She tried to jack up taxes on farm exports to make farmers sell more grain domestically. They faced her down with strikes and roadblocks, leading to food shortages. For years, she branded farmers as hoarders and speculators. "We never got anyone in her government to meet with us," says Gabriel De Raedemaeker, whose family has 9,400 acres of soy, corn, wheat, and ranchland near Cordoba in the northern pampa. Says Raedemaeker, who's vice president of a regional farming association: "You cannot imagine how exhausting that bellicose rhetoric was."
Raedemaeker says he knows how the government muzzled critics. "Like clockwork, I would get a notice from the tax agency right after being quoted in the media," he says. "And I had to go down there with my accountant and prove my innocence." Ricardo Echegaray, who ran the tax agency under Fernández, declined to comment.
Macri has drawn criticism for bypassing congress via a flurry of decrees, including appointing two judges to the supreme court. "Decrees can be used, but not like this," says Daniel Sabsay, a lawyer and an expert on Argentina's constitution. "It comes close to a violation of the separation of powers."
Macri doesn't control congress, and he'll need to form alliances with the opposition—including former Fernández allies—if he wants to govern, says Senator Juan Manuel Abal Medina, Fernández's former cabinet chief.
"We think that some of these changes are not right," says Abal Medina, referring to the currency devaluation and other initiatives by Macri. "They might be good for the financial markets in the short term, but over time they will erode advances for the poor that we worked hard to achieve." Peronists control the senate and form the largest opposition group in the lower house.
Macri's challenges become clear in the dimly lit offices of the statistics institute. He has declared a "statistics emergency," giving Todesca the freedom to make radical changes. Todesca says it will take months just to get a reliable read on inflation—and he has opposition. Among the institute's 1,700 workers are 200 delegates from a fiercely pro-Fernández union who are trying to block his reforms.
Todesca is used to getting heat. In 2011 the commerce secretariat fined the economist 500,000 pesos ($37,000) for publishing his own inflation index. The fine was overturned in court. "I think that's why the president chose me, because I tried to speak the truth about economic statistics and was punished for it," Todesca says. "It's a complex task, but worth it."
—With Pablo González, Dan Cancel, and Charlie Devereux
The bottom line: President Macri has inaugurated a new kind of openness and reform in Argentina, but he still has to deal with opposition in congress.
Before it's here, it's on the Bloomberg Terminal.
LEARN MORE