ANZ Bank Sued by Two Traders Fired Over Offensive Messages
by
Trader says bank tolerated drunken antics, lap dancing visit

ANZ says it will vigorously defend the claims in court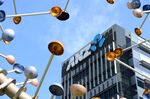 Two traders fired by Australia & New Zealand Banking Group Ltd. last year for sending offensive messages are suing the bank, claiming senior managers condoned a culture of rule-breaking in which foul language and drunken behavior went unpunished.
Etienne Alexiou, ANZ's former head of balance sheet trading, and Patrick O'Connor are appealing their dismissals in the Federal Court in Sydney and suing for tens of millions of dollars of lost income and bonuses.
In documents lodged with the court, Alexiou alleges a culture in which Global Markets managers used obscene language, joked about drug-use and tolerated drunken antics, including allegedly driving a car onto a golf course during a bank conference. He claims a future manager took him to a Sydney lap dancing bar along with two female human resources employees as the bank prepared to hire him in 2011.
BBSW Probe
"ANZ will be vigorously defending both their court applications," the bank's chief risk officer, Nigel Williams, said in a statement Friday. An internal investigation by the bank has already shown that many of the allegations made in the court claims "are not accurate and these inaccuracies will become apparent as the matters proceed through the court system," he said.
The two men were among seven traders suspended by the bank in November 2014 amid a regulatory probe into the setting of Australia's interbank interest-rate benchmark. As it sifted through the traders' emails amid the BBSW probe, ANZ discovered messages that violated its policies.
O'Connor's dismissal related to alleged abuse of a company-issued credit card, ANZ said Friday. His and Alexiou's dismissals were also related to "highly inappropriate and offensive electronic communication," the bank said in a statement.
Alexiou is suing the bank for A$30 million ($21 million) and in his claim says he was exposed to a workplace that condoned behavior inconsistent with the bank's code of conduct, according to court documents. O'Connor, who worked at the bank for 10 years as a senior fixed-income salesman, claims ANZ created and encouraged a "toxic and unsafe culture."
Golf Course
To support his claim, Alexiou cited instances including a March 2013 event where drunken senior managers at an ANZ Bank conference allegedly drove a motor vehicle onto a golf course and caused significant damage, according to court documents. He also said that in September 2011, after a "white substance" was found in the male toilets of ANZ's dealing room, a manager had apparently remarked that the substance should have been sprinkled on the birthday cake of a colleague.
Alexiou and O'Connor were fired after the bank discovered inappropriate electronic messages sent via work email and through Bloomberg terminals that "included obscene and disparaging comments about women," according to documents lodged with the court.
"We have more than 1,000 staff in our Global Markets business in total who are working responsibly in line with our values and our code of conduct," ANZ Bank's Williams said. "Mr O'Connor and Mr Alexiou's claims are difficult to read for all of us at ANZ, but common sense says their behaviors are not consistent with our code of conduct and cannot be tolerated."
The cases are Alexiou v. Australia and New Zealand Banking Group Ltd., NSD1423/2015. Federal Court of Australia (Sydney) and O'Connor v. Australia and New Zealand Banking Group Ltd., NSD1713/2015. Federal Court of Australia (Sydney)
Before it's here, it's on the Bloomberg Terminal.
LEARN MORE