U.S. Stocks Tumble as Selloff Resumes, Led by Consumer Shares
By
Netflix, Amazon pace retreat following two days of gains

Russell 2000 Index slumps into bear market, lowest since 2013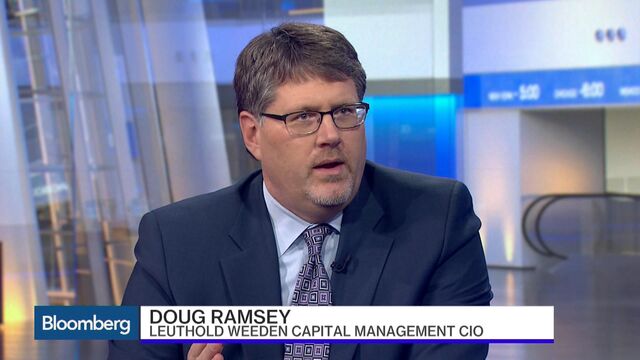 The 2016 selloff in U.S. stocks intensified, with the Dow Jones Industrial Average tumbling more than 360 points, as consumer shares led the latest rout in a turbulent start to the year that has erased at least $1.6 trillion from equities.
An early rally evaporated for a third day as declines of at least 5.8 percent in Amazon.com Inc. and Netflix Inc. paced the selloff. Banks sank to their lowest close since May 2014, and energy companies fell as crude wiped out a 4 percent surge after data showed stockpiles continued to grow. Express Scripts Holding Co. lost 6.4 percent and biotechnology companies tumbled to weigh on the health-care group.
The Standard & Poor's 500 Index slid 2.5 percent to 1,890.28 at 4 p.m. in New York, its lowest close since Sept. 29. The gauge fell past 1,900, a level it's closed below only four times in the past 14 months. The Dow fell 364.81 points, or 2.2 percent, to 16,151.41, and the Nasdaq Composite Index sank 3.4 percent, the most in more than four months. The Russell 2000 Index closed in a bear market, sinking 3.3 percent to its lowest since 2013, and down 22 percent from a record set in June.
"With energy selling off, we've lost a leg of leadership, which is made worse because we've already been seeing risk-off," said Yousef Abbasi, global market strategist at JonesTrading Institutional Services LLC in New York. "The FANG gang is making new lows, and small-caps are continuing to get pummeled. What you're seeing today is some pretty broad-based weakness."
It was another volatile session following yesterday's whipsaw action in which the S&P 500 capped its first back-to-back advance in three weeks. The Dow on Wednesday traveled more than 470 points from the session high to low.

Concern that turbulence in China's stocks and currency will spread to the global economy just as the Federal Reserve is increasing borrowing costs has spurred declines in markets in 2016. The S&P 500 posted its worst-ever start to a year, sliding 6 percent last week. The benchmark has declined 11 percent from its record set in May, and is just 1.2 percent above the bottom of an August swoon, which was also sparked by anxiety over the impact of China's weakness on worldwide growth.
According to JPMorgan Chase & Co., this year's tumble is at least partly attributable to robotic selling by quantitative investors who were forced to rebalance their funds when stocks and bonds both fell in January.
"While this implies there is less risk of a sudden market crash vs. August, it is not imminent that these strategies will start buying equities," wrote Marko Kolanovic, the JPMorgan strategist. "Moreover, if volatility keeps on rising, there could be more selling to come."
Volatility Surge
The Chicago Board Options Exchange Volatility Index rose 12 percent Wednesday to 25.22. The measure of market turbulence known as the VIX is up 39 percent in January, on track for its biggest monthly gain since August's 135 percent jump. About 9.8 billion shares traded hands on U.S. exchanges, 36 percent above the three-month average.
"If this week has shown us anything, it's that no gain is safe," said Thomas Garcia, head of equity trading at Thornburg Investment Management Inc. in Santa Fe, New Mexico. "Equities have just been out of favor early on this year. We've been taking our cues from what's been going on from China, but people seem to be getting numb to that."
The Fed's Beige Book survey of conditions released today said the economy expanded across most of the country in the past six weeks as the job market showed strength that's failing to stoke broad wage pressures. The report underscores the challenge facing policy makers heading into their meeting later this month: The labor market is strengthening without triggering signs of higher wages or inflation more broadly.
Boston Fed President Eric Rosengren said today estimates for U.S. growth are falling, putting the central bank's projected path for rate increases at risk. Chicago Fed President Charles Evans said in comments also today he backs an "even shallower path" for future rate increases than his colleagues.
Earnings Loom
After this year's selloff brought S&P 500 valuations down to levels last seen in 2014, investors will be turning their attention to a key determinant of stock prices -- corporate earnings. JPMorgan Chase & Co., Intel Corp., and Citigroup Inc. are scheduled to post quarterly results this week. Analysts estimate profits for S&P 500 members fell 6.7 percent last quarter.
"Corporate earnings could provide some support, especially if the energy and commodities sectors are not as miserable as everyone expects," said Heinz-Gerd Sonnenschein, a strategist at Deutsche Postbank AG in Bonn, Germany.
Amid the carnage Wednesday, all of the S&P 500's 10 main industries fell, with consumer discretionary and health-care shares the worst performers. Eight of the groups lost at least 1.7 percent. Utilities were little changed.
"There's big-time negative sentiment in the market right now," said Mark Kepner, an equity trader at Themis Trading LLC in Chatham, New Jersey. "There's a lot of growth uncertainty in general. Without enough news to make it go higher, and with negative sentiment, we started selling off."
Netflix Tumbles
Consumer discretionary companies in the benchmark gauge slipped 3.4 percent, the biggest drop since the August selloff. BorgWarner Inc. led with a 9.5 percent decline after providing 2016 sales guidance that fell short of previous estimates. Netflix lost 8.6 percent, the most since October 2014, while Ford Motor Co. and Delphi Automotive Plc slumped at least 5 percent. Home Depot Inc. dropped 4.8 percent, the worst in the Dow, and its steepest retreat since 2011.
The S&P 500 health-care index fell 2.9 percent to its lowest since September amid losses in drugmaker shares. AbbVie Inc. and Celgene Corp. decreased more than 5.6 percent. The Nasdaq Biotechnology Index slid 5.3 percent to a 14-month low and its ninth loss in 10 days. The gauge is down 18 percent over the period.
Express Scripts posted its steepest drop in three years after health insurer Anthem Inc., its biggest client, threatened to ditch it for a competitor unless the pharmacy benefit manager can deliver $3 billion a year more in savings on drug costs.
Industrial companies in the S&P 500 lost 2.3 percent, snapping a two-day gain. The Dow Jones Transportation Average lost 3.7 percent, the most in almost two years to its lowest since October 2013. Norfolk Southern Corp. and Union Pacific Corp. fell more than 3.1 percent, while Boeing Co. decreased 2.9 percent.
CSX Corp., the largest rail carrier in the eastern U.S., fell 5.7 percent to its lowest level since February 2013 as demand for rail cargo is expected to drop this year in what Chief Executive Officer Mike Ward called a "freight recession."
Williams Cos. plunged nearly 18 percent, the steepest since 2002 and the most among energy companies today as credit downgrades and slumping energy prices exacerbated concerns over the $38 billion deal for the pipeline company to be bought by Energy Transfer Equity LP. Valero Energy Corp. and Tesoro Corp. tumbled more than 8.6 percent.
In an ironic twist, Chipotle Mexican Grill Inc., the worst non-energy performer in the S&P 500 during the last three months, was the day's second-best performer. The shares rose 5.9 percent, the most since July after executives told analysts at an investor conference that it can win back the trust of customers and restore its industry-leading restaurant margins by 2017.