Top Korea Arranger Sees Bond Sale Slump in 2016 on Ratings Angst
by
KB Investment sold most won corporate bonds for second year

Korean downgrades exceeded upgrades by most since 1998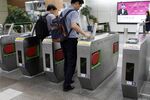 South Korea's top bond arranger sees debt rating angst and a faltering economy spoiling the market in 2016.
KB Investment & Securities Co. expects offerings of won-denominated corporate notes to decrease this year after reaching 38 trillion won ($31 billion) in 2015, the most since 2012, according to Bloomberg-compiled data. The Seoul-based brokerage topped the rankings for a second year, managing 7.1 trillion won, or 18.6 percent of deals, the data show.
Companies in Asia's fourth-largest economy are pressured by the slowdown in China, with Korean exports declining for twelve straight months and industrial production unexpectedly falling in November. Daewoo Shipbuilding & Marine Engineering Co., whose rating was cut to junk last month, is poised to record its biggest-ever loss for 2015 and steel and construction were among industries with the most downgrades. Yield premiums on Korean corporate debt have risen to the highest since 2012 as rating cuts exceeded upgrades by the most since 1998 last year.
"Companies would increase leverage to make investments if the economy is expected to improve, but they're not willing to do so under circumstances like these," said Park Sung Won, the senior managing director of the corporate finance department at KB Investment in Seoul. "It's still difficult for lower-rated companies in cyclical industries to sell bonds because investors are questioning their ability to repay debt with the change in industrial structure in Korea and with rating downgrades expected to continue."

More than half of 254 companies surveyed by the Korea Employers Federation expect business retrenchment in 2016 amid the economic slump, the group said in a Dec. 14 statement. Among large firms, 41.2 percent said they'll scale down investment and recruitment slightly.
Korea Investors Service, a local affiliate of Moody's Investors Service, cut the credit scores of 59 local borrowers last year while raising ratings for only 10 companies, the worst ratio since 1998. The firm expects downgrades to continue in the first half.
"Korea has neglected to conduct structural reform, as can be seen in its continued support for problem sectors" such as construction, shipbuilding and steel, said Kim Hong Joong, the Seoul-based team head of fixed income at Hanwha Asset Management Co., which oversees 76 trillion won in assets. "Companies rated A have been hurt the most, but those graded AA have been affected as well. The trend will likely continue this year."
Higher Costs
The gap between the yield on AA+ rated corporate notes and those graded A- widened to 113 basis points on Wednesday, the highest since 2009. Overall spreads on Korean corporate debt climbed to 58 last week, the widest in 3 1/2 years.
"With sluggish economic growth, companies will increasingly seek to sell perpetual bonds to improve their financial structure and defend credit ratings," said KB Investment's Park. "Banks will also want to sell capital bonds to raise equity in preparation for possible provisions."
South Korean banks asked 54 large companies to restructure their debt last year, up 58.8 percent from a year earlier, the Financial Supervisory Service said in an e-mailed statement last month. Hanjin Heavy Industries & Construction Co. said last week it is seeking to restructure its debt with creditors as the nation's first shipyard faced a temporary liquidity shortage.
Risk-averse investors are chasing debt with lower odds of non-payment. That means offerings of asset-backed securities will likely increase this year while corporate bond sales slump, KB Investment's Park said.
Domestic issuance of securities backed by assets rose 7 percent to 19.5 trillion won last year, near the 12-year high of 20.5 trillion won in 2013, Bloomberg-compiled data show. KB Investment also held the No. 1 spot for such sales, arranging 4.7 trillion won in deals.
"Investors are demanding higher risk premiums with mounting debt restructurings and downgrades," said Kim Sang Man, a Seoul-based credit analyst at Hana Financial Investment Co. "If China's economic slowdown continues, it will hurt Korean companies' fundamentals."
Before it's here, it's on the Bloomberg Terminal.
LEARN MORE