Sweden Faces Biggest Humanitarian Effort in History, PM Says
By
PM Says will keep up steps to limit inflow of refugees

Support for government has fallen to record low, polls show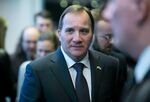 Swedish Prime Minister Stefan Loefven said the country faces the greatest humanitarian challenge in its history as he expressed outrage over reports of sexual assaults perpetrated by recent immigrants to Europe. 
Sweden, which has a population of 9.8 million, received 163,000 asylum applications in 2015, the highest ratio per capita in the European Union, Loefven told parliament Wednesday.
Support for Loefven's government has fallen to a record low, with a new survey by pollster Skop last week blaming the drop on its handling of the refugee crisis. The government was forced to u-turn on its open doors policy after being overwhelmed by migrants fleeing conflict in Syria, Afghanistan and Iraq.
Until the refugee crisis becomes sustainable again, the country needs to take steps to limit the influx, Loefven said.
"We will do what it takes to handle both the short-term challenges of refugee reception, and the more long-term challenges for society," he said. A sustainable solution involving an equal distribution of refugees can only be found at EU level, he said.
According to Anna Kinberg Batra of the opposition Moderate Party, it could take as much as three years to process all the asylum applications that were received last year.
With Sweden suffering a severe housing shortage, the challenge will not only be making sure that new arrivals find jobs and receive an education, but also a roof over their heads.
Loefven and his finance minister, Magdalena Andersson, on Wednesday invited the opposition for talks on housing market measures, including possible changes to the tax system. An additional 700,000 homes need to be built by 2025, according to the National Board of Housing, Building and Planning.
Wednesday's parliamentary debate took place amid reports in the Swedish media that the local police had kept quiet about alleged sexual assaults by immigrants on young women at a festival in Stockholm.
Loefven expressed "great anger" at those reports, as well as at similar events coming out of the German city of Cologne, and called for the perpetrators to be punished.
"It's a part of the hate we see against women," Loefven said. "Men and women need to stand side by side" in the "fight for women's rights," said the premier, who prides himself on having a feminist foreign policy.