Stock With 121,597% Return Sees Five-Year Record Profit Run
by
Company's order book is more than twice last year's sales

Avoiding generic products is a key part of growth strategy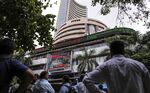 Meet PI Industries Ltd., an agrichemicals maker ranked 175th by market value among listed companies in India. Or the stock that would have multiplied your capital more than 1,200 times in the 13 years through the end of December.
The Gurgaon, northern India-based company has delivered positive returns every year since 2003, the longest streak in Asia, transforming itself from another penny stock into an enterprise with multiple manufacturing plants and a research-and-development center, employing nearly 1,600 people. Now, Managing Director Mayank Singhalplans to take the growth story further.
PI, which develops and makes pesticides by licensing patents owned by its global partners such as BASF SE, Syngenta AG and Dow Chemical Co., expects earnings to grow about 20 percent annually for the next five years, according to Singhal. While the demand for chemicals used to protect crops is dependent on agricultural output and fickle weather, an expanding product portfolio has boosted PI's order book to $650 million, more than twice its sales in the financial year ended March 2015.
"We are confident that we will be able to grow our order book from $650 million at a steady clip," Singhal, 42, who's also a member of PI's controlling shareholder family, said in an interview. "We are focusing on expanding our knowledge and technology capabilities. This will enhance our operating leverage and margins."

PI's shares closed at 649.05 rupees on Dec. 31, compared with 0.53 rupees on the same date in 2002, capping a 13-year streak of annual gains. That's the longest for Asian firms with more than $250 million in capitalization and matches an equally long stretch by Nestle Malaysia Bhd., whose stock climbed 267 percent during the period.
PI reported record net income of 2.46 billion rupees ($37 million) in the year ended March 31. The stock is valued at 25.5 times its projected 12-month earnings, compared with 17.1 times for the S&P BSE MidCap index. Among its industry peers, India's UPL Ltd. trades at a multiple of 11.5 and shares of Switzerland's Lonza Group AG are priced at 20.5 times.
While PI is "one of the best plays" in the agrichemicals industry because of its capital efficiency, a balance sheet with little debt and robust growth outlook, the company is exposed to risks from the vagaries of Indian monsoon rains and a decline in farmers' incomes, according to Niket Shah, an analyst at Indian brokerage Motilal Oswal Securities Ltd.
Shah has a buy rating on the stock with a price target of 800 rupees. PI's shares rose 1.1 percent to 689.55 rupees on Thursday, while the S&P BSE Sensex dropped 0.3 percent.
PI Industries's net debt was about 10 percent of its shareholders' equity as of March 31, compared with 112 percent five years earlier, according to data compiled by Bloomberg.
Intellectual Property
Incorporated in 1947 as Mewar Oil & General Mills, PI began exporting agrichemicals in the 1970s before taking on its current name a couple of decades later. It currently earns more than half its revenue from overseas markets.

PI's rapid growth over the past decade was helped by its strategy of steering clear of copycat versions of pesticides and focusing instead on specialty chemicals by partnering global companies while respecting their intellectual property, according to Singhal. The company now plans to develop two to three new products acquired via patent licenses each year, he said.
"In the complex intellectual property business, the key differentiator is technology and knowledge. We also have cost competitiveness," he said.
Before it's here, it's on the Bloomberg Terminal.
LEARN MORE