business
South Korea Fires Warning Shots Over Border as Tensions Rise
By
Aerial vehicle returned northward after shots were fired

South resumed propaganda broadcasts last week against North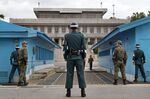 South Korea's military fired warning shots after spotting an unidentified aerial vehicle approaching its heavily fortified border with North Korea, in the latest incident fueling tensions stemming from Pyongyang's fourth nuclear test last week.
The device appeared around 2:10 p.m. local time, prompting the South Korean army to broadcast a warning, the Joint Chiefs of Staff in Seoul said in a text message. It returned northward immediately after the shots were fired.
Tensions remain high along the demilitarized zone after South Korea resumed propaganda broadcasts last week in retaliation to the nuclear test by the Kim Jong Un regime. South Korea has reinforced up its defensive positions near about ten sites where it set up the loudspeakers, while North Korean forces have stepped up surveillance activities.
"North Korea may be trying to raise anxiety among South Korean troops by deliberately letting them spot its drone," said Kim Jin Moo, a North Korea researcher at South Korea's state-run Korea Institute for Defense Analyses in Seoul. "If not, it could be part of a scouting mission before North Korea devises a plan to target South Korean loudspeakers."
North Korea has sent drones over the border for surveillance of military posts and government facilities in the past, according to the Defense Ministry. The incident Wednesday took place hours after South Korean President Park Geun Hye held a nationally televised press conference in which she urged China to help draw up the "strongest sanctions" against North Korea as punishment for the Jan. 6 test.
North Korea says it tested a powerful hydrogen bomb even though arms experts say the tremors resembled those seen in previous atomic blasts. Seoul has nonetheless resumed broadcasts critical of the Kim regime and the U.S. has flown a B-52 long-range bomber over South Korea in a show of force. North Korea's official media have called the bomber mission a move that "pushes the situation to the brink of war."
The nuclear test led the World Economic Forum to rescind an invitation to attend its annual meeting in Davos, Switzerland next week. The detonation signaled there would "at the moment be no opportunity" for constructive dialogue, WEF managing board member Philipp Roesler said at a Wednesday press conference in Geneva.
Diplomacy
With China being North Korea's biggest trading partner and a veto-wielding member of the United Nations Security Council, Park is urging Chinese President Xi Jinping to use his influence to rein in Kim. On Wednesday, she offered a reminder of the deepening ties between the two nations since she took office in 2013, and of China's open opposition to its impoverished neighbor's development of nuclear arms.
"The best partner is one that holds your hand when you're having a difficult time," Park said at her presidential office. "China has repeatedly shown determination it won't tolerate North Korea's nuclear arms. I believe China knows well that North Korea's fifth and sixth nuclear tests can't be avoided and true peace and stability on the Korean peninsula can't be guaranteed unless that determination turns into real necessary measures."
Her comments came a day before talks scheduled between the nuclear envoys of South Korea and China in Beijing. Representatives from Japan, South Korea and the U.S. are set to meet separately in Seoul on Wednesday to discuss tougher sanctions against Pyongyang.
Kim is seeking to use the momentum from the Jan. 6 test to develop more powerful nuclear arms. On Tuesday, he called for an improvement in the "quality and quantity" of his country's atomic weapons and praised the scientists responsible for creating the bomb that was detonated last week, the official Korean Central News Agency said.
China's Concerns
North Korea's nuclear test -- the second since Kim came to power four years ago -- took place after China sent a high-ranking envoy to Pyongyang in October to seek to repair relations marred by the nuclear tensions. Still, Chinese Foreign Minister Wang Yi called last week for a return to disarmament talks to address the nuclear issue.
China is worried that a crackdown on North Korea may destabilize the Kim regime and lead to millions of refugees fleeing across China's border, or that South Korea will absorb its northern neighbor, leaving a well-armed U.S. ally on its frontier.
Watch Next: North Korea's Nuclear Claims Met With Skepticism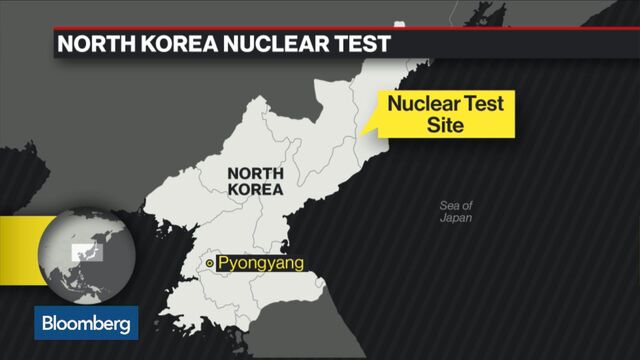 "China's basic stance is that the North Korean nuclear problem should be resolved through negotiations," Cheong Seong Chang, a senior analyst at the Sejong Institute near Seoul, said by text message. "It may be mistaken to expect that China will cooperate on severe sanctions given that South Korea and the U.S. are simply calling for pressure."
(
Updates with World Economic Forum details in seventh paragraph.
)
Before it's here, it's on the Bloomberg Terminal.
LEARN MORE