Russia on War Path Leaves Siluanov to Scrape By as Funds Ebb
by , , and
Russia risks depleting Reserve Fund this year, minister warns

Government spares military, social outlays from budget cutback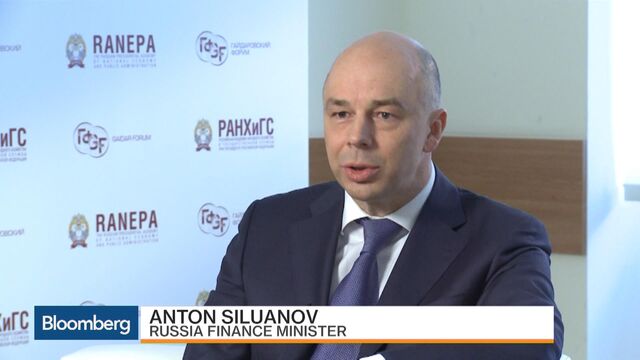 The renewed decline in oil prices is forcing Russia to extend an austerity drive that's without precedent during President Vladimir Putin's 16 years in power. The fiscal rigor, though, will go only so far.
As the government takes stock of public finances battered by oil's collapse, it will exclude outlays on the military and social services from any cuts, Finance Minister Anton Siluanovsaid in a Bloomberg Television interview in Moscow on Wednesday. The Reserve Fund, one of Russia's two sovereign wealth coffers, plunged 16 percent in December, and authorities risk depleting it by the end of the year if no measures are taken, according to Siluanov.

"We are extremely careful with our reserves and our task is to maintain these reserves at sufficient levels to ensure the stability of government finances," Siluanov said. "For now, we have decided not to touch defense spending. We'll see how the situation develops further."
Competing policy priorities are pulling at the government in the midst of the country's largest rearmament program since the 1991 collapse of the Soviet Union. The austerity push is already an about-face for Putin, who as prime minister in 2009-2010 deployed what Goldman Sachs Group Inc. estimated to be the largest stimulus package among Group of 20 nations, which amounted to 9.8 percent of economic output.
Thinking Beyond
"In 2016, sure, we have to adjust that budget a little, but we'll make it through the year," Siluanov said. "We have to think beyond that."
Measures totaling 1.5 trillion rubles ($20 billion) are needed to avoid a shortfall of more than 6 percent of gross domestic product this year, according to Siluanov. That includes spending cuts of 10 percent, or 500 billion rubles, he said.
"The concern is not just the budget deficit in one year," Ksenia Yudaeva, a first deputy central bank governor, said Thursday in Moscow in an interview with Bloomberg Television. "What we are concerned with is really good medium-term budget strategy."
Syrian Campaign
Russia, which relies on oil and natural gas for almost half of its budget revenue, in October rolled back cuts to defense spending for this year, undoing reductions after embarking on a bombing campaign in Syria, the nation's first military foray outside the former Soviet Union in three decades. The country was the world's third-biggest defense spender in 2014 after the U.S. and China, according to the Stockholm International Peace Research Institute.
Defense and the related category of national security and law enforcement ate up about a third of the budget last year, more than double the ratio in 2010.
Putin's 'Investment'
"Given that Putin's military actions serve like an investment in his political standing at home, I do not think that much money will be saved here," said Wolf-Fabian Hungerland, an economist at Berenberg Bank in Hamburg, Germany. "With every dollar less for a barrel of oil, the chances increase that the holes in the Russian budget can really not be covered anymore."
Although facing one of the toughest challenges of his rule, with incomes falling the most since he came to power, Putin's public approval recently touched a record high amid airstrikes in Syria against Islamic State and other militants. His support was at 85 percent in December, according to a survey by the Levada Center research company.
With the country at risk of the longest recession in two decades, millions of Russians are sinking into poverty after the government allowed household finances to bear the brunt of the country's economic contraction and responded to the crisis with spending cutbacks and a free float of the ruble.
The ruble's lost more than half of its value since the start of 2014. It advanced for the second day and traded 0.3 percent stronger at 76.4360 against the dollar as of 2:41 p.m. in Moscow.
New Era
Oil's slump to a near-12-year low has prompted governments from Norway to Saudi Arabia to prepare for lower energy revenue and rethink how they spend their cash reserves. Russia is in a bind, having planned its 2015 budget around an average oil price of $50 a barrel. The government wants to keep the deficit at no more than 3 percent of GDP this year, after a shortfall of 2.6 percent in 2015. The Reserve Fund had $50 billion at end-December in dollar terms, down more than 40 percent from a year earlier.
"If we consider today's oil price and the ruble exchange rate and don't take any measures, the deficit could more than double compared with the budget we have passed," Siluanov said. "We have enough reserves, resources for 2016, but we need to make decisions this year that would allow to balance state finances in 2017, 2018, 2019 and beyond."
Aside from spending cuts, the government aims to boost budget revenue by cracking down on tax fraud and auctioning off state assets, Siluanov said.
Russia has a "high level" of reserves at the central bank, along with its two wealth funds, which will help the economy endure a recession, Putin said in an interview with German newspaper Bild this month. If needed, the government may also tap the $72 billion National Wellbeing Fund, something that's not on the agenda this year, according to Siluanov.
"If no steps are taken with revenue and consolidation, of course, we'll use the whole Reserve Fund in the coming year," Siluanov said. "We also have National Wellbeing Fund money that hasn't been used for infrastructure projects. That's also our reserve for the coming years."
Before it's here, it's on the Bloomberg Terminal.
LEARN MORE