business
Podemos Raises Spanish Socialists' Hopes of Pact to Oust Rajoy
By
Anti-austerity group says stopping Rajoy's cuts is priority

Ciudadanos says `not impossible' to join Socialist-led pact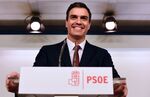 Socialist leader Pedro Sanchez's plan for a progressive alliance to oust Mariano Rajoy's People's Party in Spain is gaining credibility as the anti-austerity group Podemos tempers its demands.
Podemos is softening its call for Catalans to be allowed a vote on independence as the new parliament sits for the first time on Wednesday. Sanchez, meanwhile, is emphasizing Podemos-friendly policies such as a minimum income, a higher minimum wage, and rolling back Rajoy's labor-market reforms.
"Our priority is to stop the cuts and that means above all that the People's Party can't continue in power," Jorge Moruno, the head of political messaging at Podemos, said in an interview. On Catalonia, "the only thing we are putting on the table is the possibility of seeking democratic solutions and dialogue."
Spanish politicians are trying to resolve an unprecedented impasse in the national parliament as Catalonia, the country's largest economic region, agitates for a breakaway and the economic recovery shows signs of losing momentum.
The spread between Spain's 10-year bonds and similarly dated German paper narrowed for the first time in three days on Wednesday, reaching 118 basis points at 12:56 p.m. in Madrid compared with 130 points on Tuesday.
All Change
A new era in Spanish politics saw one Podemos lawmaker, Carolina Bescansa, arriving in the chamber with her baby, who was cuddled by party leader Pablo Iglesias. With many lawmakers adopting a more informal look than the business suits that have traditionally dominated, some skipped the cloakroom and perched their winter jackets on the back of their seats, one sported dreadlocks, and a group from Valencia arrived accompanied by a band of musicians.
Of the 350 lawmakers taking their seats, 218 were new to parliament. Traditionally male-dominated, the new legislature also includes 137 women, the highest number in Spain's democratic history, as well as the country's first black lawmaker.
Podemos Riled
Any agreement to actually form a government is still a long way off, however, with Podemos's leader, Pablo Iglesias, bristling at an accord that secured the presidency of the chamber for the Socialists while handing the PP three slots on the nine-seat parliamentary council. The Socialists, Podemos and Ciudadanos have two seats each on the committee that organizes the day-to-day work-flow of the assembly.
Iglesias criticized Sanchez for the deal in an interview with Cadena Ser, saying it handed an advantage to the PP, and was asked if that ruled out a governing alliance between Podemos and the Socialists.
"Sanchez has ruled it out by reaching a deal with the PP," Iglesias said. In a separate interview with Onda Cero, Iglesias said Podemos's main objective is still getting the PP out of office and in comments to reporters in parliament he said a deal with the Socialists was still possible.
Iglesias has to keep his party's often rowdy grassroots activists onside, as well as four separate groups within his parliamentary delegation, even as his strategists signal the leader's long-term objectives will require some form of accommodation with the Socialists.
Blocking Rajoy
Rajoy said he's seeking a pact with the Socialists and Ciudadanos to govern for the next four years to provide stability, push ahead with reforms, and protect the economic recovery. Sanchez, 43, has insisted that his group will vote against Rajoy's bid for a second term. If he makes good on that pledge, it's almost impossible for the 60-year-old acting prime minister to stay in office after losing a third of his lawmakers in December's general election.
"I extend my hand to Podemos so that we can reach an agreement on policy," Sanchez said in an interview on Telecinco. "There is a lot of common ground where we can understand each other and change things the way people want them to change in our country."
A Socialist-led government would likely pose a challenge to the European Commission's efforts to force Spain to bring its budget deficit under control. The Socialists, Podemos and Ciudadanos all pledged to seek more leeway from the European budget police during the election campaign.
Ciudadanos leader Albert Rivera said his party won't be joining a multi-party government while leaving open the option of lending the support of his 40 lawmakers to either of the two biggest parties.
"We aren't going to be in three-party or four-party governments," Rivera said in televised comments. "Another thing entirely is holding a dialogue with the Socialist Party which shares our constitutional values, as we also share them with the People's Party."
— With assistance by Maria Tadeo
(
Updates with details of session in sixth paragraph.
)
Before it's here, it's on the Bloomberg Terminal.
LEARN MORE