Offshore Yuan in Record Five-Day Advance as China Soothes Nerves
Bloomberg News
PBOC keeps currency fixing stable for fourth day in a row

Interbank rates in Hong Kong drop from unprecedented levels
The yuan traded in Hong Kong posted the biggest five-day gain on record and interbank rates in the city slid off levels described as "murderous" as China's central bank sought to soothe investor nerves frayed by the worst-ever start to a year for both the currency and stocks.
China's exports unexpectedly rose in December, suggesting that the yuan's decline since an Aug. 11 devaluation is beginning to boost the nation's competitiveness, while speculation the monetary authority propped up its exchange rate this week kept the offshore yuan at a premium to the mainland rate for much of the day. This followed efforts by officials to talk up the yuan on Monday and efforts to step up restrictions on currency outflows.
"Measures to prevent a sharp yuan depreciation will likely be temporary, but policy makers may want to keep borrowing costs for the currency relatively high in Hong Kong in the near term as they seek to keep the onshore-offshore gap small," said Irene Cheung, a currency strategist at Australia & New Zealand Banking Group Ltd. in Singapore. "These steps put a temporary stop to and will even reverse China's efforts of internationalizing the yuan, but they are necessary to stabilize the volatile markets."
Yuan Climbs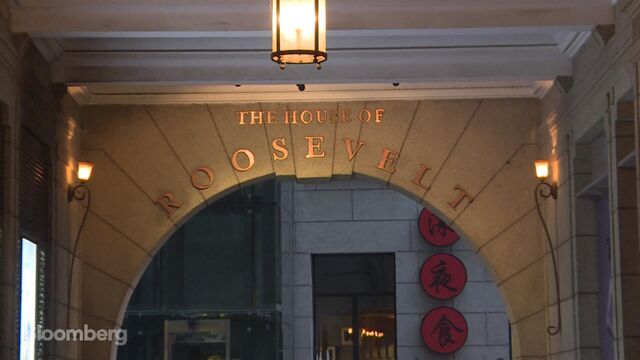 The offshore yuan rose 0.14 percent to 6.5745 a dollar as of 6:18 p.m. in Hong Kong, according to prices compiled by Bloomberg. That takes its five-day advance to an unprecedented 2.1 percent. The currency erased its discount to the onshore rate on Tuesday for the first time since October. The yuan in Shanghai advanced 0.02 percent to 6.5743 by close of trading.
The monetary authority kept its reference rate little changed for the fourth day in a row. It set the fixing, which restricts onshore moves to a maximum 2 percent on either side, at 6.5630 a dollar, 0.18 percent stronger than Tuesday's officialonshore closing price of 6.5750.
The overnight Hong Kong interbank offered rate fell 58.5 percentage points to 8.31 percent, having reached an unprecedented 66.82 percent on Tuesday after the People's Bank of China bought yuan in the city to drive out speculators. The one-week Hibor fell 21.8 percentage points to 11.96 percent. A 66 percent rate is murderous for those who are not speculators, Michael Every, Rabobank Group's head of financial markets research, said on Tuesday.
Depreciation Bets
By intervening in the Hong Kong market, the central bank is trying to curb bets on a rapid depreciation and close the gap between onshore and offshore rates. While efforts to stabilize the exchange rate may ease investor concerns about a hard landing in the nation's economy, a sustained surge in offshore borrowing costs could undermine the ruling Communist Party's plans to make the yuan a key funding currency in international financial markets.
"Once speculative pressure on the offshore yuan eases, interest rates will fall toward more normal levels," said Eugene Leow, Singapore-based rate strategist at DBS Bank Ltd. "Still, the offshore yuan rates are likely to trade above their onshore counterparts for the foreseeable future as there remains a weakening bias for the yuan versus the dollar."
Overseas shipments increased 2.3 percent in yuan terms from a year earlier, the customs administration said on Wednesday. That compares with a 3.7 percent drop in November. Imports extended a stretch of declines to 14 months, falling 4 percent in yuan terms, leaving a trade surplus of 382 billion yuan ($58 billion).
New Index
A Bloomberg replica of a new yuan index composed of 13 currencies and published by the China Foreign Exchange Trade System rose 0.2 percent to 100. The official CFETS RMB Index dropped 1.5 percent in the past month to 99.96 on Jan. 8, according to a statement on its website. While China has extended onshore yuan trading hours to 11:30 p.m., the central bank continues to view the 4:30 p.m. price as the closing level.
In the latest in a series of moves to stop the local currency from leaving the mainland, China's foreign-exchange regulator has verbally instructed some banks to limit outflows and reduce offshore yuan positions and liquidity, according to people with knowledge of the matter.
Bets against the yuan will fail and calls for a large depreciation are "ridiculous" as policy makers are determined to ensure stability, Han Jun, the deputy director of China's office of the central leading group for financial and economic affairs, said Monday in New York. Downward pressure on the yuan is expected to ease, Ma Jun, the chief economist at the PBOC's research bureau, said in comments posted Monday on the central bank's website.
— With assistance by Tian Chen, and Saijel Kishan
Before it's here, it's on the Bloomberg Terminal.
LEARN MORE